US Airways apologizes for tweeting pornographic photo
Posted:
Updated: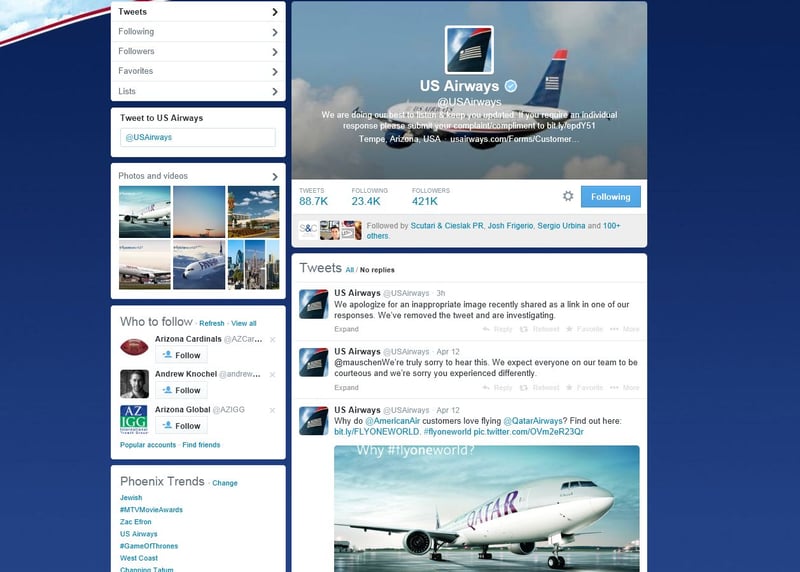 Courtesy: Twitter
PHOENIX (CBS5) -
US Airways spent Monday as one of the top trending topics on Twitter.
Instead of being praised for on-time performance, the airline has been the butt of jokes regarding a pornographic picture accidentally posted on its Twitter page.
Without being too graphic, the photo was a close up shot of a naked woman and a toy plane with an unexpected landing.
At about noon, US Airways was responding to two customers – one of them a teenage girl – who complained about their service on Twitter.
The airline sent two tweets.
One tweet read, "We welcome your feedback. If your travel is complete, you can detail it here for review and follow up."
The second tweet read, "We don't like to hear this. Please provide feedback to our customer relations team here."
Each tweet had a link, which was the embedded pornographic image.
"I would never say it was a good thing that happened," said Valley public relations expert Jason Rose, who continued with a joke. "But, in terms of target marketing, maybe it does allow them to compete with Virgin Airlines a little easier."
The tweets were up for about an hour before US Airways discovered the mistake and deleted them.
The airline then tweeted, "We apologize for an inappropriate image we recently shared as a link in one of our responses. We've removed the tweet and are investigating."
By this time, people had grabbed a screen shot of the naughty tweet, and it went viral.
On Monday afternoon, US Airways issued the following statement:
"We apologize for the inappropriate image we recently shared in a Twitter response. Our investigation has determined that the image was initially posted to our Twitter feed by another user. We captured the tweet to flag it as inappropriate. Unfortunately the image was inadvertently included in a response to a customer. We immediately realized the error and removed our tweet. We deeply regret the mistake and we are currently reviewing our processes to prevent such errors in the future."
Most of the Twitter responses to US Airways' apology have been positive and humorous.
One person wrote, "No apology needed. That just made my whole day."
Rose said he's not surprised by the reaction.
"The public is pretty smart at the end of the day," he explained. "They know it was a mistake. And US Airways acted with an appropriate statement. They could use a little self-deprecating humor themselves probably to escape the situation a little better. But I think they've handled it as good as they could have so far."
Copyright 2014 CBS 5 (KPHO Broadcasting Corporation). All rights reserved.