Homeowner's security camera peers into neighbor's backyard
Posted:
Updated: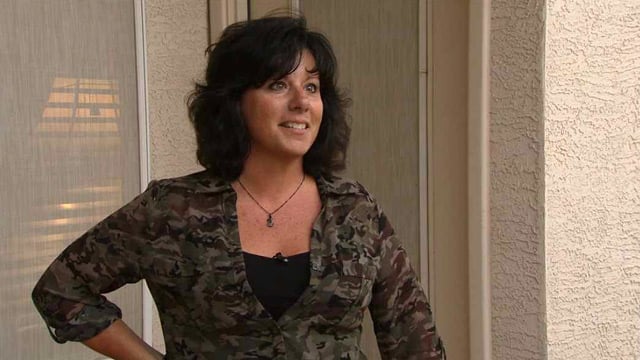 "I always know I'm being watched. I always know I'm being watched," says homeowner Elaine Migala. (Source: CBS 5 News)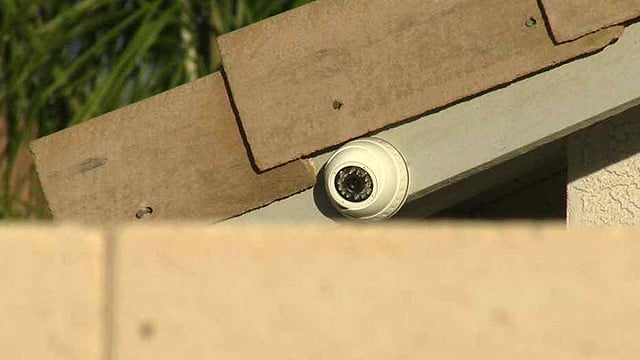 CHANDLER, AZ (CBS5) -
The reduced cost of home video surveillance systems has more people choosing to protect their homes with cameras.
The increase in cameras, however, has led to a clash between homeowners rights and privacy laws.

Bad blood between neighbors has brought in an extra set of eyes in a Chandler subdivision off of Ray Road. One neighbor has nine surveillance cameras on his property, one of which captures the goings on in the backyard of the adjoining property, despite the presence of a 7-foot-tall cinder block wall.
"I always know I'm being watched. I always know I'm being watched," says homeowner Elaine Migala.

Migala, a mother of two, woke up one morning to a sign poking over the fence in her backyard notifying her that she was being recorded.
Behind that sign was a camera pointed squarely into her yard.
"I immediately went over to the house and banged on the door and went in to see what they were looking at," said Migala.
CBS 5 News knocked on the door of the same house with the cameras and inquired about their motivation.

"Do you think its OK to have a camera that points and records in your neighbor's back yard?" asked reporter Adam Longo.
"No. No it's not," responded a man who identified himself as Allen Brown.

Migala has to shut the door and closed the blinds to preserve her privacy. She says she is concerned about her kids being recorded while playing in the pool and in the yard.
"If they put in a camera looking into your yard you probably wouldn't be happy with it?" asked Longo.
"People are doing it all the time," Brown said.
But when asked if he thought that makes it right: "No. No, you're right," said Brown.
Former prosecutor and Phoenix-based defense attorney Alex Lane said having a camera in one's yard is only illegal if the homeowner's sole intent is to harass a neighbor. Otherwise, the law, Lane said, isn't clear.
"If it is a crime, it's dependant wholly on the intent," Lane said." A body of law will begin to develop that says this is permissible, that's not permissible. We don't really have that right now."
Copyright 2014 CBS 5 (KPHO Broadcasting Corporation). All rights reserved.