Tucson police identify officer in alleged incident
Posted:
Updated: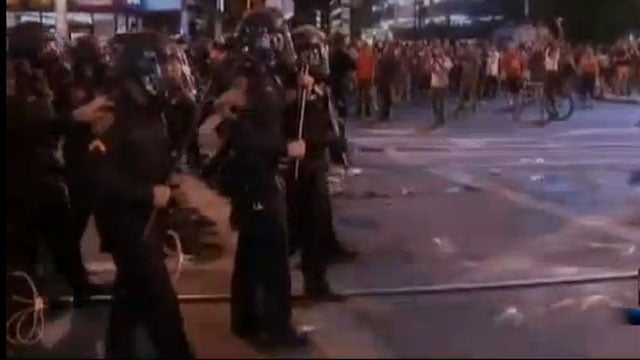 Tucson police clash with crowd after the University of Arizona basketball team lost in the NCAA tournament.
TUCSON, AZ (AP/CBS5) -
Tucson police have released the name of an officer who allegedly shoved a woman during a melee that broke out after the University of Arizona basketball team lost in the NCAA tournament.
Police say Sgt. Joel Mann is an 18-year department veteran and has received several threats after Saturday night's incident near campus.
They say Mann has been given "an alternative duty assignment" as a precaution and the move isn't "indicative of any premature judgment on his actions."
Police say the incident still is being investigated.
Fans took to the streets after the game and hurled beer bottles and firecrackers at police officers, who then used pepper spray to disperse the crowd.
A bystander's cell phone video shows an officer apparently shoving the woman who was walking by into a bench.
Here is Wednesday's complete statement from Tucson police:
"As you know, the media coverage from the "Elite 8" related celebrations on Saturday night March 29th has brought about intense media attention regarding the Tucson Police Department. One video has reached "viral" status and notoriety across the internet, wherein an officer is seen pushing a female as she walked towards the back of the skirmish line. This occurred during the unlawful assembly in the intersection of University Boulevard and Tyndall Avenue.
"There are numerous postings on various internet and social media related sites showing a photograph of the Sergeant involved in this incident. Several of these postings have identified him by name, as well as disclosed other personal information about him and his family. For this reason we are confirming his identity as Sergeant Joel Mann, an 18 year veteran of the Department.
"There have been numerous demands calling for the immediate termination, "forced" resignation, suspension, or placing him on an imposed leave status. We have publically stated that the Department will thoroughly investigate this incident to determine the facts and circumstances surrounding the Department's response to the entire incident.
"Approximately 50 officers were wearing body-worn cameras that evening. These cameras have captured more than 100 hours of video footage that still needs to be cataloged and fully reviewed. As this information continues to be compiled, we would like to remind everyone that no rush to judgment will be made regarding this incident.
"Since this incident, Sergeant Mann has received several threats. For safety reasons, the member is being afforded an alternative duty assignment. This is purely a precaution, and not indicative of any premature judgment on his actions. We are currently investigating these threats and will seek prosecution as appropriate."
Copyright 2014 Associated Press. All rights reserved. CBS 5 (KPHO Broadcasting Corporation) contributed to this report.