Valley doctor helps patients keep allergies under control
Posted:
Updated: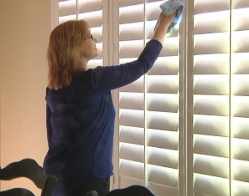 PHOENIX (CBS5) -
The Valley is in the middle of allergy season and high winds will make allergy sufferers even more miserable today.
Winds in the Valley will sustain around 15 to 20 mph by this afternoon with gusts up to 30 mph.
Dr. Janette Reeves, part of the Cigna Medical Group has advice to keep the itchy eyes and congestion to a minimum.
Reeves said people need to take their shoes off before entering their homes.
"In the evening when you get home, if you've been out and it's windy just take a shower. It doesn't have to be that you're doing everything, but even if you just rinse off," said Reeves.
The shutters, curtain and blinds need to be cleaned regularly to get rid of lingering dust particles.
And remember to keep the windows shut, especially in the morning and in the early afternoon when the pollen count is at the highest.
Reeves added it's a good idea to use the air conditioner but make sure the filters are clean.
Try to vacuum twice a week to clean up the dust and pollen that does come into the house.
Reeves reminded parents to wash their children's stuffed animals. Often the animals collect dust for months at a time and children will breathe in the particles while they sleep.
Children and adults might benefit from a pillowcase that is made especially to block pollen and dust particles from making their way into a pillow, said Reeves.
Reeves believes it's important to keep the bedroom as clean as possible because that's where a lot of time is spent.
As for pets, use a wet wash cloth to wipe off the particles so they don't bring it into the house.
Copyright 2014 CBS 5 (KPHO Broadcasting Corporation). All rights reserved.