Mom says young daughter was left alone at bus stop
Posted:
Updated:
By Joseph Wenzel IV, News Editor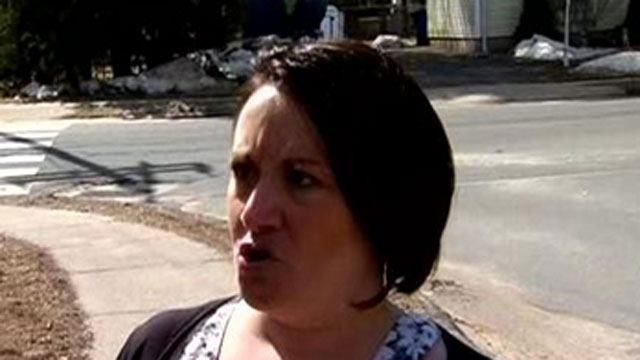 Tracy Sutcliffe
MIDDLETOWN, CT (WFSB) -
A Middletown mother said her 5-year-old girl was dropped off at the wrong bus stop several times.
Her allegations come after Eyewitness News previously discussed how the Middletown Public Schools will be considering a plan to overhaul its dismissal policy.
Tracy Sutcliffe contacted Eyewitness News after its story Thursday night about possible changes to the busing policy here.
"It is the worst feeling in the world not to know where your 5-year-old is," Sutcliffe said.
Sutcliffe said when her kindergarten daughter left Lawrence Elementary School, she shouldn't have been left alone at the bus stop on Westlake Drive two weeks ago.
"The bus and I passed on Westlake and I proceeded to u-turn, and found her on the sidewalk standing alone," Sutcliffe said.
The district said that's not exactly what happened.
School officials said Sutcliffe's daughter told that the man at the bus stop was her dad. But Sutcliffe said that wasn't the child's father and was a stranger.
Sutcliffe said in another instance, her daughter was dropped off at the incorrect bus stop and left alone.
"Fortunately my 5-year-old is smart enough to walk to the babysitter's house," Sutcliffe said.
District officials said in that case Sutcliffe changed the bus stop's location with the driver and there was confusion about where the child should be dropped off.
"I've been fortunate that my daughter has been safe when she's been dropped off," Sutcliffe said.
The district was already reviewing its dismissal policy. Part of that review included looking at which students should be required to be picked up at the bus stop by a guardian. After she complained to the district, Sutcliffe said they require her to follow several steps.
"My daughter is the only one who has to have a password," Sutcliffe said. "My daughter is the only one who has to have someone come up physically so that the bus driver can recognize their face."
Whether the district will eventually require all students to follow a similar procedure is unclear. But Sutcliffe said she hopes her situation will inspire change.
"It's not only about my daughter. It's about all the children who are riding that bus," Sutcliffe said.
The superintendent told Eyewitness News she plans to bring up the bus proposal on April 22 during the policy committee meeting.
Copyright 2014 WFSB (Meredith Corporation). All rights reserved.