Baseball coaches hope fields thaw soon
Posted:
Updated: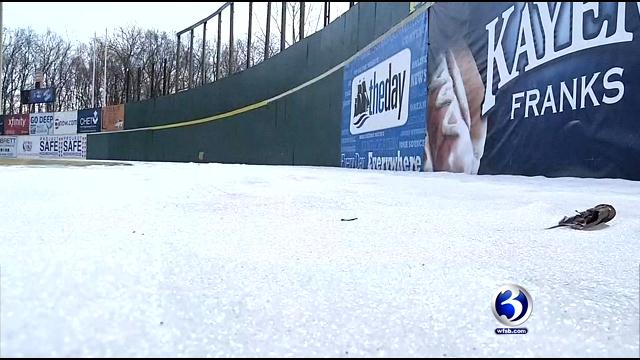 NORWICH, CT (WFSB) -
Groundskeepers have been working to thaw out baseball fields across the state.
One of them, Dodd Stadium in Norwich, had a lot of snow on the field Thursday.

Opening day there for the UConn series is April 4, according to stadium officials.
"We have the Dodd Stadium College Baseball Classic which will be UCONN, Bryant and Stonybrook the first weekend in April," said Eric Knighton, the vice president and general manager of the Connecticut Sound Tigers. "So if everything goes according to plan, we will have baseball here in a couple of weeks."
Crews said much of the outfield is solid ice. The infield is groomed, but muddy.
The Tigers' season doesn't start until June. Knighton said he's confident the ground will be warmed up by then.
"The first concern is always player safety," he said. "But right now we only have a little bit of snow out in the outfield running track."
The field was also practice grounds for the Norwich Free Academy Wildcats.
The practice field is also all wet on the surface.
Former coach and NFA spokesman John Iovino said it's a tough call for coaches early this season.
"Baseball teams will be practicing, tryouts for softball, everyone is expected to be outside," Iovino said. "As high school coaches you have to be creative. You have to be a very good teacher to get a lot of things accomplished in a gymnasium."
Iovino said team members have to work together to share gym space, especially with other sports like lacrosse, track and tennis.
Coaches hope the big thaw happens sooner rather than later.
Copyright 2014 WFSB (Meredith Corporation). All rights reserved.