Meriden to fix flooding problem with federal help
Posted:
Updated: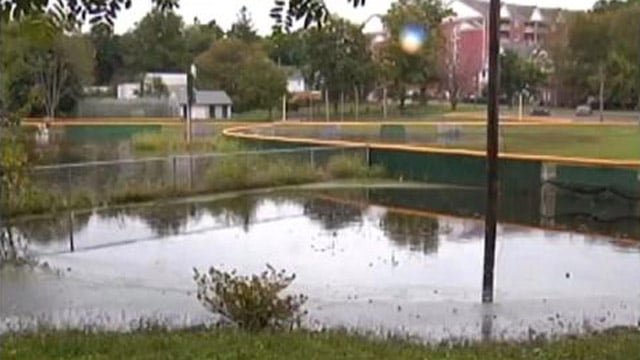 MERIDEN, CT (WFSB) -
Downtown Meriden has had big plans in place for a new green, more businesses and hundreds of affordable housing units. However, city officials said that can't happen until flooding issues are fixed.
Thursday, those officials said they are getting some help from the federal government.
It's been an eight-year roller coaster for the owner of coffee shop Cafe Dolce.
"Some years have been good and some years have been very, very tough," said Sara Owen of Cafe Dolce. "More traffic would definitely help."
Home and business owners said it did not take much rain to send water rushing into their basements. Many said they have pumps to handle the problem. Tropical Storm Irene in 2011 was the last straw, they said.
That storm was one of nearly a dozen to hit Meriden since the late 1800s. City officials said two major floods in the 1990s forced many major employers to relocate out of the city's center.
The town manager was working in one building on Colony Street when a flood hit in the 1990s. Officials said the well of an elevator shaft was under 20 feet of water. The water caused $26 million in damage.

"Many developers and investors have been pretty hesitant as far as investing their money in the downtown because they're not sure in regards to flooding if they're wasting their money," said Ross Gulino, a landlord.

Now, city officials said they have plans for new a commercial development, construction of a downtown green and four 500 units of affordable housing. The Mills Memorial public housing complex would be eliminated.

"We do need to deal with this flooding problem which really did drive business out of downtown," said Rep. Elizabeth Esty. "If we don't deal with that, no matter what we do, no matter what other good work, it will amount to nothing if that flooding problem remains."
The key is the Harbor Brook Flood Control Plan. It includes widening bridges and building basins to collect water overflow.
Officials said the state had already approved nearly $4 million for the project. Thursday, the federal government said it would chip in as well with a nearly $2.5 million grant.
Nathan Lopez worked with Housing and Urban Development more than 15 years ago. He said families have been worried about the change but thinks it's for the best.
"The places they're building are beautiful and appropriate places for these families to have a sense of community and home," Lopez said.

Sens. Richard Blumenthal and Chris Murphy along with Esty visited Cafe Dolce and a print shop in Meriden. Both businesses said they've suffered from the flooding over the years.
City officials expect financing and approval from HUD in the next few weeks.

The project was expected to be completed in 2018.
Copyright 2014 WFSB (Meredith Corporation). All rights reserved.