Hamden students 'flip' homework concept
Posted:
Updated: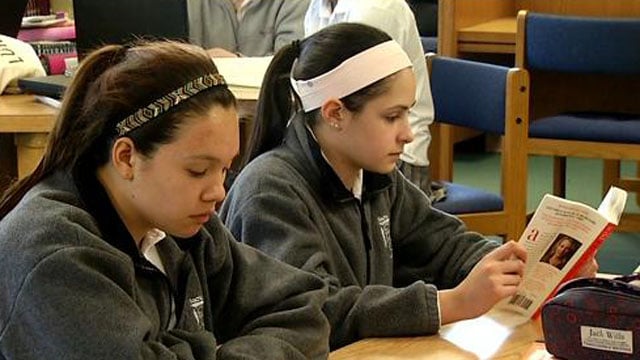 Students at Sacred Heart Academy in Hamden 'flip' homework to school work. (WFSB photo)
HAMDEN, CT (WFSB) -
A private school in Hamden has been looking at a concept that has students doing homework at school.
Teachers at the Sacred Heart Academy said the idea, called "flipped," had test scores shooting through the roof.
"The AP scores have improved since we started using it, so I really think it's effective," said Dr. Elizabeth Christophy, a chemistry teacher. "And the girls seem to like it a lot too."
Christophy said she first learned of the concept during a conference three years ago. She said essentially, teachers post lectures online for students to watch at home before they come to class.
She also said she uses a tablet computer to write out the lesson, just like a chalkboard. She also holds "virtual office hours" at night to answer students' questions.
"I like it a lot because I can pause it and take notes and I can always replay it before a test," said Kristen Austin, a sophomore.
Sacred Heart's principal said the concept has been extremely helpful in keeping students on track despite missed snow days because they can learn at home.
"The teachers, they're constantly wanting to move them forward, so it's not a waste of time," said Sr. Maureen Flynn, principal of Sacred Heart Academy. "And I think those snow days can be a good thing because it gives the students a chance to learn at their own pace."
School leaders said flipped will never replace face-to-face learning. However, they said they can see themselves using the concept for more classes in the future.
Copyright 2014 WFSB (Meredith Corporation). All rights reserved.