8-year-old struck by vehicle in New Haven
Posted:
Updated:
By Joseph Wenzel IV, News Editor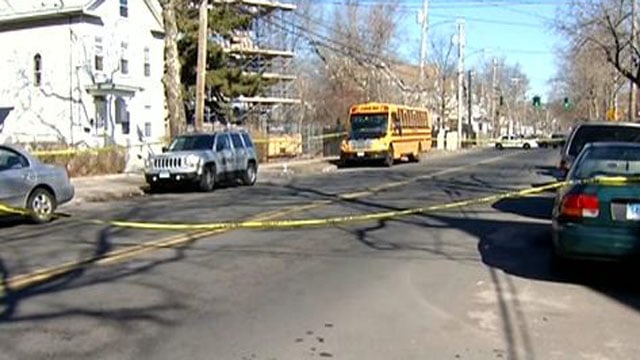 NEW HAVEN, CT (WFSB) -
The search was on for whoever struck an 8-year-old girl in New Haven on Tuesday morning.
Police said it happened just before 7:30 a.m. as the unidentified girl was trying to catch the bus and walking across the intersection of Ferry Street and Pine Street.
She was struck by a white van passing through.
"I heard a scream and a big boom and when I looked out the window, I saw a white van, like a work van, in the street and it sped off," said Kayla Roberge, an eyewitness.
Roberge said she was one of the first people on the scene. She said she ran to the girl's side moments after she was hit. She brought the girl a towel and started directing traffic until help arrived.
"She was shaking and she was breathing funny and she had blood coming out of her nose and her mouth," Roberge said.
Police said she the girl was transported to Yale-New Haven Hospital to be treated for non-life-threatening injuries. The hospital staff said the girl was in stable condition.
Shortly after the crash, the New Haven Police Chief Dean Esserman went to visit the girl in the hospital himself and praised her for her bravery.
Roberge told Eyewitness News that Ferry Street was a dangerous road.
"There's a daycare and she's been going there since she was younger and she thought that was her bus so she went to go catch it and the van hit her," she explained.
She also said she can recall two separate incidents where a man and a dog were hit by a motor vehicle on Ferry Street.
"There's a light right here and people will speed from light to light like it's a race," Roberge said. "They just don't care about anything in the street, people, animals, other cars. They just speed."
The driver was in a white commercial van that had double rear doors with windows, police said. They believe it had damage to its front passenger side near or involving the headlamp.
Anyone with information is urged to call New Haven police at 203-946-6304
203-946-6304, or the New Haven Police Tips Line at 203-946-2875
203-946-2875. All calls will be kept confidential.
Copyright 2014 WFSB (Meredith Corporation). All rights reserved.