McCain: Sanctions against Russia don't go far enough
Posted:
Updated: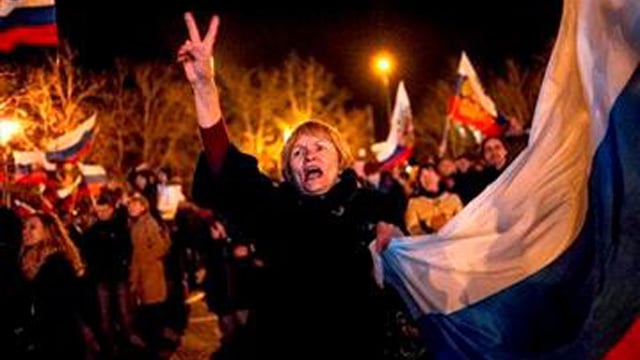 Pro-Russian people celebrate in the central square in Sevastopol, Ukraine, late Sunday, March 16, 2014. (Source: AP Photo/Andrew Lubimov)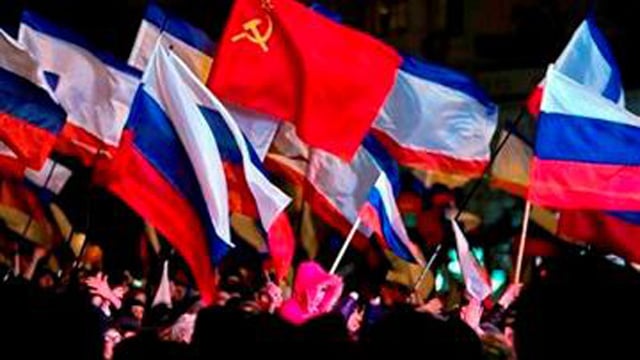 Pro-Russian people celebrate in Lenin Square, in Simferopol, Ukraine, Sunday, March 16, 2014. (Source: AP Photo/Vadim Ghirda)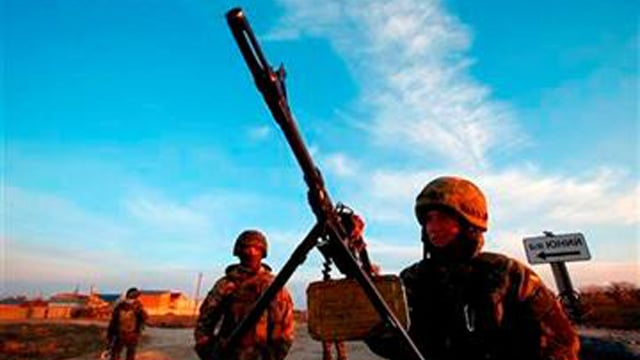 Ukrainian soldiers man a check point in the village of Strilkove, Ukraine, Sunday, March 16, 2014. (Source: AP Photo/Sergei Grits)
PHOENIX (CBS5/AP) -
Arizona's congressional delegation is speaking out on the most comprehensive sanctions against Russia since the end of the Cold War.
On Monday, President Barack Obama froze the U.S. assets of seven Russian officials, including top advisers to President Vladimir Putin, for their support of Crimea's vote to secede from Ukraine.
Obama said he was moving to "increase the cost" to Russia, and he warned that more people could face financial punishment.
The announcement brought a sharp and lengthy response from Sen. John McCain, R-AZ, just back from a weekend trip to Kiev:
"The crisis in Ukraine calls for a far more significant response from the United States. Today's Executive Order could be an important part of that response, but sanctioning only seven Russian officials is wholly inadequate at this stage.
"Russia has invaded, and appears ready to dismember, a sovereign country. It has massed military forces on Ukraine's border, and it is actively raising tensions and provoking instability across eastern Ukraine. In the absence of a stronger U.S. and Western response to this aggression, we run the risk of signaling to Putin that he can be even more expansive in furthering his old imperial ambitions, not only in Ukraine, but also in Central and Eastern Europe, the Baltic countries, and parts of Central Asia.
"Most urgently, we must expand our efforts to support Ukraine's government and people. The United States and NATO should rush plane-loads of food and other humanitarian assistance to Ukrainian soldiers and civilians in eastern Ukraine. We should also work through the OSCE to approve and deploy a large civilian monitoring mission in eastern Ukraine that could help set the record straight about alleged threats to ethnic Russians and reveal Putin's effort to inflame the situation as a pretext for further aggression. Most importantly, the presence of these civilians on the ground might cause Putin to think twice about expanding his war into eastern Ukraine.
"Similarly, the Administration should rush the modest military assistance to the Ukrainian government that its leaders have requested. Ukraine needs a long-term assistance program to rebuild and reform its military, and the United States should play a leading role in that effort. But Ukraine has urgent needs to defend itself now. All of the Ukrainian officials that I and seven of my Senate colleagues met last weekend in Kyiv reiterated their government's request for some small arms and ammunition, as well as significant non-lethal assistance, such as protective equipment, spare parts, fuel, and sharing of intelligence. No one, including Ukraine's leaders, deny that Ukraine is militarily out-matched by Russia. But when victims of aggression beseech us for better means to defend themselves from further aggression, free peoples should provide that assistance. That is the right and decent thing to do.
"Russia's aggression in Ukraine has also shaken many of our NATO allies, especially those with ethnic Russian populations of their own that fear they may be Putin's next target. NATO's modest increase of force presence and military exercises in Central and Eastern Europe and the Baltic countries has been a good first step. But now is the time to enhance this security cooperation dramatically. NATO should also take all necessary steps to expand the alliance to include countries such as Georgia and Montenegro as soon as possible.
"At the same time, the United States must lead the West in imposing greater costs on Russia for its aggression against Ukraine. We should expand our campaign of targeted sanctions far beyond those seven persons designated today and cut off the most corrupt Russian government officials, companies, and financial institutions from western economies. This United States should use the Magnitsky Act to sanction additional Russian officials for their gross violations of human rights. Finally, Russia's leaders should face a more assertive effort to isolate them internationally, including by repeated votes in the U.N. Security Council and a G-7 boycott of the G-8 Summit in Sochi.
"The Senate Foreign Relations Committee passed legislation last week on a strong bipartisan basis that would contribute to all of these efforts to support Ukraine and impose greater costs on Russia. In particular, this legislation includes vital financial support and other assistance that can help Ukraine prepare for elections on May 25. It is essential for that vote to occur as scheduled. The full Senate should take up and pass this legislation with no further delay so that it can be reconciled with House legislation and sent to the President to become law.
"The United States and our allies and partners must remain committed to supporting the sovereignty, independence, and territorial integrity of Ukraine, which includes Crimea. How we respond to Putin's flagrant aggression in Ukraine is being watched far beyond Europe. From Asia and the Middle East to here in our own hemisphere, America's friends and adversaries are paying close attention to this crisis. They are watching to see whether President Obama's actions match his rhetoric, and they will respond accordingly.
"The crisis in Ukraine is about more than Ukraine. It is also about the credibility of America's global leadership and whether the future will be defined by the values of the West, or by dictators and aggressors who think they can bully the free world into submission. We must recognize that reality and be equal to it."
Matt Salmon, R-AZ, chairman of the subcommittee on the Western Hemisphere, said:
"With today's announced sanctions, Russia is given one more opportunity to listen and react to the growing international pressure against their illegitimate actions in Crimea. Leveraging a sham resolution in Crimea that will never be recognized by the international community is not a path forward for Russia, and President Putin has yet another opportunity to change their path of aggression towards a peaceful resolution.
"Above all, the Obama administration must use whatever means possible to ensure Ukrainian sovereignty is preserved and international law is upheld."
The Treasury Department also is imposing sanctions on four Ukrainians - including former President Viktor Yanukovych and others who have supported Crimea's separation - under existing authority under a previous Obama order.
The U.S. announcement came shortly after the European Union announced travel bans and asset freezes on 21 people they have linked to the unrest in Crimea.
Obama administration officials say there is some overlap between the U.S. and European list, which wasn't immediately made public. Biden was heading to Europe Monday and Obama plans to go next week. The president said that demonstrating a "solemn commitment to our collective defense" as NATO allies will be at the top of the agenda.
Copyright 2014 CBS 5 (KPHO Broadcasting Corporation). All rights reserved. The Associated Press contributed to this report.