Church services remember those lost in NYC blast
Posted:
Updated: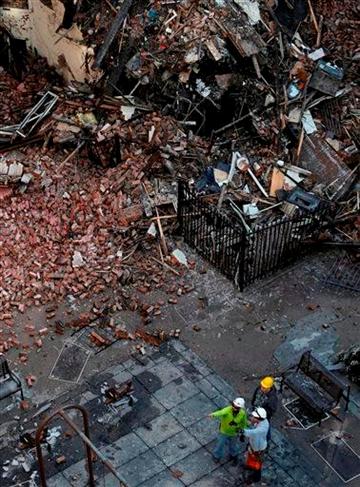 (AP Photo/Julio Cortez). Workers survey an area covered in rubble Friday, March 14, 2014, two days after a natural gas explosion leveled two apartment buildings in New York.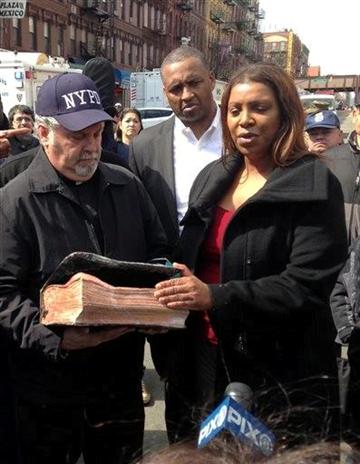 NEW YORK CITY (AP) -
A church hit by the loss of two members in an explosion that destroyed two New York City apartment buildings remembered the women in services Sunday with tears mixing in with the sounds of gospel, as members of a church that was demolished in the collapse joined another nearby house of worship for its service.
At the site of the blast, the last of the debris was being cleared away as investigators prepared to get started on finding the cause.
Bethel Gospel Assembly lost members Griselde Camacho and Carmen Tanco in the blast that also killed six others in the East Harlem neighborhood.
"We feel the void. Both women were very active members," said Michelle Robinson, the church's business administrator, adding that Tanco often served as an usher at services and would greet her fellow congregants at the door.
"We are a family and we're all just missing the big hugs she used to give," Robinson said.
New York City Mayor Bill de Blasio was scheduled to speak at the church, and then visit the house of worship where members of the Spanish Christian Church were spending Sunday. The Spanish Christian Church was located in one of the two collapsed buildings. On Saturday a crew at the blast site found a large Bible in the rubble and returned it to the church's pastor.
At the scene of the explosion on Park Avenue and 116th Street, there were signs that the initial cleanup was coming to an end. Police barricades that had kept people away since Wednesday's blast were moved closer into the site, and pedestrians who had been kept far away were now allowed to walk closer.
The theory that Wednesday's explosion was due to a gas leak gained momentum Friday after the National Transportation Safety Board, which investigates pipeline accidents, said underground tests conducted in the hours after the explosion registered high concentrations of natural gas. The NTSB will conduct its own inquiry after police and fire officials determine what might have caused the explosion.
City Fire Commissioner Salvatore Cassano said Saturday that investigators should be able to get to the gas pipes and meters in the front of the buildings' basements Sunday, adding, "We'll be in full swing with the investigation."
Arson detectives and fire marshals have been waiting to enter the basements to examine meters, check pipes and inspect any possible ignition sources, such as light switches, that might have caused the blast.
Cassano said all but 15 percent of the rubble from the buildings had been cleared away late Saturday.
Truckloads of scattered material will be sifted for any traces of human remains that might not have been found at the site, Cassano said. Although the bodies of all eight people reported missing have been recovered, the rescue operation was continuing in case others may be buried beneath the rubble, he said.
More than 60 people were injured in the explosion, and more than 100 others were displaced.
Police have identified six of those who died: Camacho, 45, a Hunter College security officer; Tanco, 67, a dental hygienist who participated in church-sponsored medical missions to Africa and the Caribbean; Andreas Panagopoulos, 43, a musician; Rosaura Hernandez, 22, a restaurant cook from Mexico; George Ameado, 44, a handyman who lived in one of the buildings that collapsed; and Alexis Salas, 22, a restaurant worker.
Mexican officials said another Mexican woman, Rosaura Barrios Vazquez, 43, was among those killed.
The name of the eighth person recovered, a woman, hasn't been released.
Investigators were trying to determine whether the explosion had anything to do with the city's aging gas and water mains, some of which were installed in the 1800s. More than 30,000 miles of decades-old, decaying cast-iron pipe still are being used to deliver gas nationwide, according to U.S. Transportation Department estimates.
Fire and utility officials said that if the buildings were plagued in recent days or weeks by strong gas odors, as some tenants contend, they have no evidence anyone reported it before Wednesday. An Associated Press analysis of the city's 311 calls database from Jan. 1, 2013, through Tuesday also found no calls from the buildings about gas.
The blast erupted about 15 minutes after someone from a neighboring building reported smelling gas, authorities said. Con Edison said it immediately sent workers to check out the report but they got there too late.
Copyright 2014 The Associated Press. All rights reserved. This material may not be published, broadcast, rewritten or redistributed.