'Shanty' opens for spring despite winter feel
Posted:
Updated: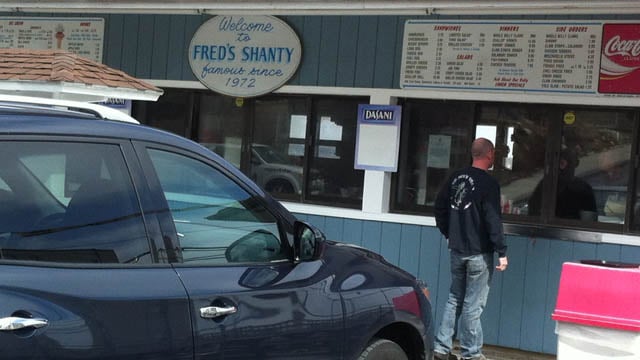 Fred's Shanty was open for business in New London Thursday. (WFSB photo).
NEW LONDON, CT (WFSB) -
A sure sign of spring in New London said Thursday that it was ready to go.
Fred's Shanty on Pequot Avenue braved the 19 degree temperatures to take orders.
Employees called out only a few order numbers Thursday and said they expect to call out a lot more once the temperature rises above 50.
"I'm ready for this," said Matt Piasani, a weekly customer. "I've had enough of the cold and snow and everything. We need our hot dogs and our hamburgers."
Mike Joyce of Fred's Shanty said he's happy to see the regulars.
"We have a lot of customers we see once a week and some local customers that don't go away for the winter that we see three to four times a week," Joyce said. "So people kind of use us as a spring ticker."
Thursday, seven-year window veteran Chelsea Robinson said she was prepared regardless of the winter blast.
"Definitely wore my Uggs and my Northface stuff," she said.
The cold wasn't enough to keep away customers like Gab Smith, who said he just wanted one of Fred's famous dogs.
"It's so freezing, I just wanted a hot dog that was it," Smith said. "Hot dog and French fries for my grandmother."
Fred's Shanty posted hours of 11 a.m. to 7 p.m.
It's employees said as the days get longer, so will the lines.
Copyright 2014 WFSB (Meredith Corporation). All rights reserved.