Thermal cameras help homeowners save money
Posted:
Updated: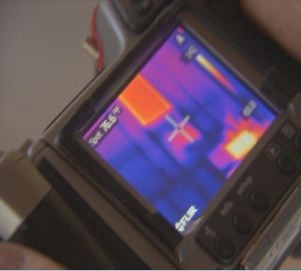 SCOTTSDALE, AZ (CBS5) -
Firefighters use thermal imaging cameras to see through smoke and save lives, but now these high-tech gadgets are being used for something else - to save homeowners money.
Mike Lauby is a home inspector with Sunland Home Inspection, who feels a little like Superman when he visits Valley homes and uses his x-ray vision.
Lauby told CBS5 that thermal cameras have changed the way inspectors do energy audits.
He just points the camera at a wall or a ceiling, and Lauby can see what the temperature is.
"It's telling me where temperature differentials exist in the house - where cold or hot air is coming in - depending on the season and where you could be losing energy dollars," said Lauby. "It also tells me where there are leaks in the walls or ceilings, moisture getting in there that we don't know about yet."
Tom Putman lives in North Phoenix. He invited Lauby in to scan his home to determine where he is losing energy and money.
"We do have one section of the house that's a little cooler than the other side of the house. That's a little warmer," said Putman.
Lauby said that once you identify the energy trouble spots in your home, you can take a couple of simple, inexpensive steps to fix them.
* Put weather stripping around your front and back door.
* Get some caulk to put around your windows.
* Check the refrigerant lines around your AC to make sure they are insulated properly.
Adding missing insulation to walls and ceilings is a bit more expensive.
But Lauby said a $1,000 or $2,000 investment can be made up pretty fast.
"I bought insulation for my attic for my 1,950 square foot house, and it was knocking $200 a month off my summer electric bills," Lauby said. "It paid for itself in two summers."
Lauby said the only real way to know what your house needs is to take a closer look.
For more information on home energy audits through thermal imaging, you can visit http://www.sunlandhi.com/documents/energyaudit.htm
Copyright 2014 CBS 5 (KPHO Broadcasting Corporation). All rights reserved.