F-35 arrives at Luke Air Force Base
Posted:
Updated: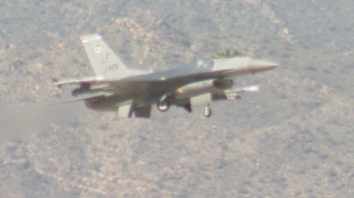 © CBS 5 News
GLENDALE, AZ (CBS5) -
Monday was a historic day for Luke Air Force Base. The highly-anticipated F-35 fighter aircraft arrived amid much fanfare.
After a smooth landing, the jet taxied down the runway, where it was greeted by an excited crowd.
"This is a day that has been a long time coming. It's the result of many years of work by a countless number of people in the military and the community," said Col. John Hanna.
This is the first of 144 F-35s that will eventually be assigned to Luke Air Force Base. The F-35 is intended to be the premiere strike aircraft for the Air Force through the first half of the 21st Century.
The jet is expected to phase out the service's aging F-16s and A-10s. According to Hanna, as other military bases across the country worried about closing down, the F-35 secures Luke's future, and will create up to 700 jobs at the base.
"Having F-35s here on the ramp ensures the long-term viability of our mission and safeguards the long-term presence of the base as a community partner and economic engine for the west valley," said Hanna.
Not to mention, they're really cool.
"The jet has a lot of get-up and go. It likes to fly so it's quite exhilarating to fly the F-35," said pilot Mark Ebner.
"It was a really great experience to come out and see the next generation of fighter jets to come in and take the place of the old ones," said spectator Jacob Ellison.
Copyright 2014 CBS 5 (KPHO Broadcasting Corporation). All rights reserved.