CBS 5 Advocate
Check strips on the back of any gift card for defects
Posted:
Updated: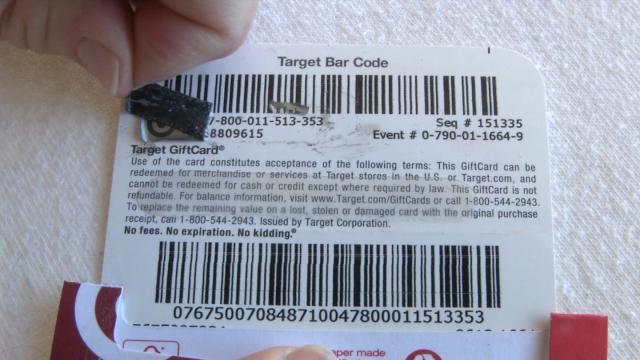 GILBERT, AZ (CBS5) -
A Gilbert woman says she bought a defective gift card that allowed a crook to steal all the money on it. She wants Target to refund her and check whether these defective cards are more widespread.
Hidden codes on the back of gift cards that can only be seen after scratching off a special strip have pretty much stopped crooks cold from stealing funds off of cards. But that protection breaks down if that special strip is defective.
"I think they need to make sure that their cards are more secure," Kristi McFarlane said.
McFarlane says she purchased a $100 Target gift card at a Mesa Fry's Food Store. When she tried to use it at Target about a month later, she says the cashier told her there was a problem and she needed to contact customer service.
"They said that there was no money left on the card, that it had been transferred to a mobile phone app," McFarlane said.
McFarlane says Target revealed the phone number used to siphon the card and it was unknown to her. Transferring gift card funds to a mobile phone app is an easy process if you have the secret code number on the back.
"They told me there was no way that the number could have been used without it being scratched off and I told them I had the card right in front of me," McFarlane said.
As she showed CBS 5 News, McFarlane explained to Target that the security strip over the code number on her particular card could be easily peeled back and replaced. She says Target claimed that was impossible, it could only be scratched off.
"They told me there was nothing I could do. I was out the $100. They said for all they knew, I was trying to scam them," McFarlane said.
On a normal strip that scratches off, it's easy to see if the card has been tampered with before buying, but that's not the case with a defective strip.
"If I had thought it was even possible, I would have looked at it closely," McFarlane said.
CBS 5 News showed Target the card and the retailer told us it was an older design no longer in production. Target says new designs won't have this flaw.
Target reimbursed McFarlane her $100 and encourages any customers who may find these defective cards to show it to customer service in a Target store. They say it will provide faster service than calling corporate customer service.
It is good consumer practice to check the strip on any gift card. Try peeling it off like a bandage. If you can achieve this, present the card to the store right away and find another card.
Copyright 2014 CBS 5 (KPHO Broadcasting Corporation). All rights reserved.