CDC, state researching Valley Fever treatments
Posted:
Updated: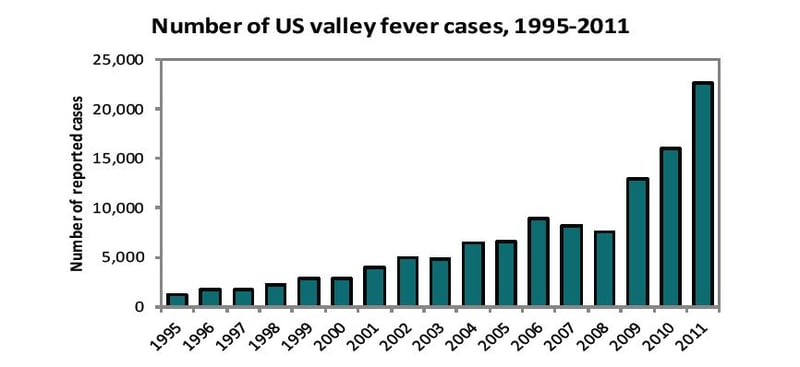 (Source: CDC)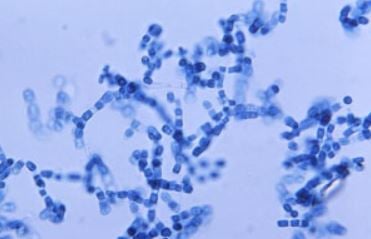 Valley Fever spores (Source: CDC)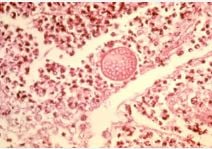 (Source: CDC)
PHOENIX (CBS5) -
Rain is a rare sight in central Arizona. For the first time in 70 days, rain showers watered the Valley of the Sun. The droplets also brought a little fungus back to life.
Health experts still don't know much about the fungus, which measures one micron across. What they do know is that it can cause a severe illness called Valley Fever.
When Lois Rathmell moved to Apache Junction from Minnesota, she had never heard of the condition before.
"I started having [flu-like] symptoms," Rathmell said. "Real fatigue at first, it hit me, I was constantly cough, I had headaches, I had no appetite."
The symptoms were debilitating for her. What was even more discouraging was the treatment options for the non-contagious fungus.
"There's no cure," Rathmell said. "There's nothing you can do except take that medicine and hope it doesn't progress."
Doctors are trying to find better ways to treat Valley Fever and that's why the National Institutes of Health (NIH) is teaming up with the Centers for Disease Control and Prevention (CDC), the Arizona Department of Health Services (DHS) and county health departments.
The research study is being conducted in Arizona where nearly 70 percent of the nation's cases of Valley Fever are diagnosed.
Jessica Rigler is coordinating some of the research with Arizona's DHS.
"After it rains, the spores germinate, so you may see more cases," Rigler said.
Since 1998, reports of Valley Fever have skyrocketed nearly 1,000 percent and about 160 people die from Valley Fever every year, according to the CDC.
Rigler says most cases go unnoticed, fought off by the body's immune system, but in rare cases, the fungus can progress and infect the skeletal system and worse, the nervous system. Doctors continue to struggle to treat the fungal infection once it reaches that point.
"There's still a lot of work to be done to understand the disease better," Rigler said.
Considered an "orphan disease," Valley Fever affects less than 200,000 people every year, but there's now a new effort to learn more about the fungus and its effects on the human body.
Rathmell hopes this research can find something - an easier diagnosis, a better treatment, maybe even a cure.
For more on this story and other stories around Arizona from this author, follow Shawn Kline on Facebook and Twitter.
Copyright 2014 CBS 5 (KPHO Broadcasting Corporation). All rights reserved.