ASU's Camp Kesem embraces children affected by parent's cancer
Posted:
Updated: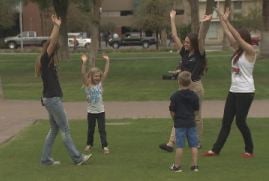 ASU's Camp Kesem
TEMPE, AZ (CBS5) -
Summer is still months away, but a group of ASU students are already preparing for Camp Kesem, a free, week-long summer camp for children being affected by an immediate family member's cancer.
"A lot of people don't see the needs of these kids because they look healthy," said counselor Elizabeth Perry, who goes by the camp name "Mader."
The word kesem means "magic" in Hebrew. The camp offers kids an escape from what they're dealing with at home.
"Some kids don't know why they're there. At cabin chat they realize that, 'I'm not alone, there are other people going through this with me,' and I think that's the beauty of Camp," said Perry.
Anika Rone, 9, and 7-year-old Jayden Rone, who go by "Hello Kitty" and "Ninja" at camp, are brother and sister dealing with such a situation at home.
"It helps me make friends and helps me meet more people," said Anika.
Kristie Becker went from being a camper when her mother was diagnosed with breast cancer to now being a counselor.
"There's no words in the American dictionary to describe how I feel about Kesem and how I feel like I've gotten so much support from a different family. Even though, yes, I went through a horrible thing, but I gained a wonderful thing from it," said Becker, who goes by the camp name "Petrie."
Starting with 19 kids in 2007, the ASU chapter currently takes 100 campers to a week-long retreat at Camp Tontozona, outside of Payson every summer. The problem is there are still another 100 kids on the wait list. ASU would love to take more kids to camp but simply don't have the funding.
"We just give them a week of camp where they get to be kids again. They get to have camp names where they get to have a whole new identity. They don't have to be the kid whose parents have cancer," said Perry.
To learn more, or to help ASU's Camp Kesem, CLICK HERE.
Copyright 2014 CBS 5 (KPHO Broadcasting Corporation). All rights reserved.