UPDATE
Arizona Gov. Brewer vetoes controversial SB 1062
Posted:
Updated: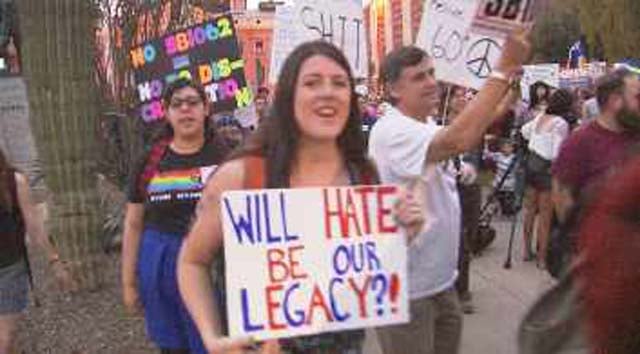 The bill triggered a national backlash from supporters of gay rights. (Source: CBS 5 News)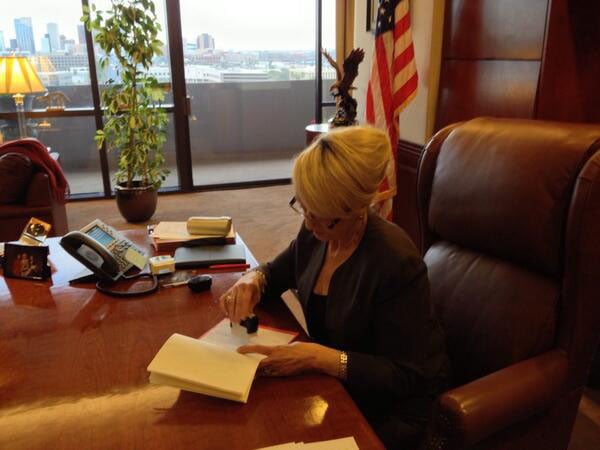 The governor's office tweeted this photo of the governor vetoing SB 1062. (Governor's Office)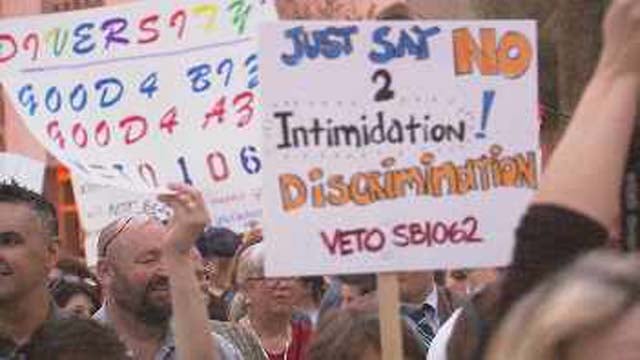 One of many protests outside the state Capitol. (Source: CBS 5 News)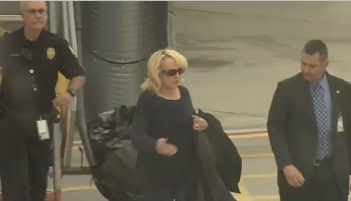 Gov. Brewer got back in Phoenix Tuesday afternoon to face SB 1062 bill on her desk. (Source: CBS 5 News)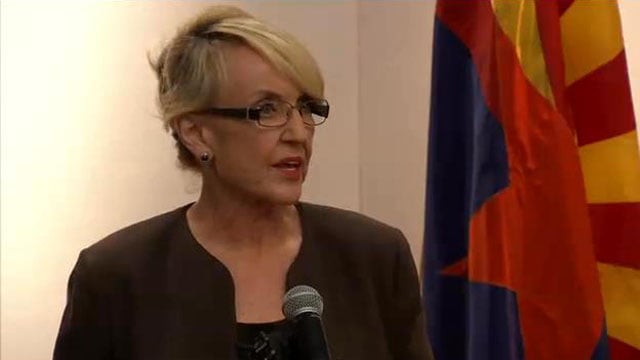 Gov. Brewer announces at a news conference she has vetoed the bill. (Source: CBS 5 News)
PHOENIX (CBS5/AP) -
Gov. Jan Brewer has vetoed SB 1062, the so-called Religious Freedom Bill.
"I call them like I see them," Brewer said. "I took the time necessary to make the right decision."
The politically charged legislation would have allowed business owners to cite sincerely held religious beliefs to refuse service to gays and other individuals and groups and fend off discrimination lawsuits.
"Senate Bill 1062 does not address a specific and present concern related to religious liberty in Arizona," Brewer said at an early evening news conference. "I have not heard of one example in Arizona where a business owner's religious liberty has been violated. The bill is broadly worded and could result in unintended and negative consequences."
Brewer noted that our society is undergoing many dramatic changes. "However, I sincerely believe that Senate Bill 1062 has the potential to create more problems than it purports to solve," she said. "It could divide Arizona in ways we cannot even imagine and no one would ever want."
[Click here to read her full statement]
Arizona Sen. Al Melvin, who voted for the bill, said, "I am sorry to hear that Gov. Brewer has vetoed this bill. I'm sure it was a difficult choice for her. But it is a sad day when protecting liberty is considered controversial."
The Center for Arizona Policy supported SB 1062. It released the following statement:
"Today's veto of SB 1062 marks a sad day for Arizonans who cherish and understand religious liberty. SB 1062 passed the legislature for one reason only: to guarantee that all Arizonans would be free to live and work according to their faith. Opponents were desperate to distort this bill rather than debate the merits. Essentially, they succeeded in getting a veto of a bill that does not even exist.
"When the force of government compels one to speak or act contrary to their conscience, the government injures not only the dignity of the afflicted, but the dignity of our society as a whole.
"SB 1062 made certain that governmental laws cannot force people to violate their faith unless it has a compelling governmental interest-a balancing of interests that has been in federal law since 1993. The religious beliefs of all Arizonans must be respected and this bill did nothing more than affirm that. It is truly a tragic day in our state and nation when lies and personal attacks can over shadow the truth."
Moments after the governor announced her decision, Democrats took to a podium outside the state Capitol. They thanked Brewer for her veto but made it clear come election day they won't forget about the members of the legislature who voted for the bill.
They were quick to remind folks that this legislative session is not over.
"We have to be ever vigilant that the LGBT community is not being picked on or preyed upon, along with any other community here in Arizona," said state Rep. Ruben Gallego (D-AZ). "We're going to hold those folks who voted for accountable and make sure this type of bill never again sees the light of day in Arizona."
The bill landed on her desk on Monday but it wasn't until Wednesday when Brewer began holding several meetings with people on both sides of the legislation. She returned to Phoenix Tuesday from the East Coast where she attended a five-day National Governors Association meeting in Washington, DC.
She spent her day Wednesday talking to all the players involved in the bill and from those strictly against it.
[Click here to read her veto letter (PDF)]
Among those meeting with her was the bill's primary sponsor, Republican Sen. Steve Yarbrough, of Chandler.
Others were seen heading to her office. State Sen. Adam Driggs is one of three Republican state senators who first voted for SB 1062 and then sent a letter to Brewer saying that vote was a mistake. On Wednesday, he got to explain in person.
"She's asked me to come talk to her, and out of respect, I'm going to do that," he said.
Driggs was accompanied by state Sen. Steve Pierce, who also changed his mind.
Neither talked about what they planned to say to the governor about the bill.
Tom Franz, president and CEO of the Greater Phoenix Leadership Council, and Glenn Hamer, president of the Arizona Chamber of Commerce, said the governor was receptive during their 30-minute meeting.
"We had the opportunity to lay out our case that this bill in our view would do a lot of damage to the state's economy," Hamer said.
State Sen. Anna Tovar and state Rep. Chad Campbell, two Democratic leaders who have been outspoken opponents of SB 1062, said they put in a request to speak with the governor but never heard back.
The legislation triggered a national backlash from supporters of gay rights.
Gay and lesbian activists dropped off petitions with more than 60,000 signatures, all collected within the last 24 hours.
A lawmaker who is the only openly gay member of the Arizona House of Representatives called the bill "discriminatory" and "appalling." Rep. Demion Clinco, D-Tucson, said it's "appalling to see state-sanctioned discrimination being promoted under the veil of religious freedom."
As Brewer held her meetings Wednesday, U.S. District Judge Orlando Garcia declared Texas' ban on gay marriage unconstitutional, but he left it in place until an appeals court can rule on the case. The ruling in Texas follows a string of rulings that have struck down gay marriage bans in Utah, Oklahoma and Virginia.
A similar suit challenging Arizona's same-sex marriage ban is in its early stages in U.S. District Court in Phoenix.
SB 1062 set off alarms in the state's business community about the harm the bill potentially could do to Arizona's reputation and economy.
The bill was pushed by the Center for Arizona Policy, a social conservative group that opposes abortion and gay marriage. The group said the proposal simply clarifies existing state law and is needed to protect against increasingly activist federal courts.
"What's happened is our opponents have employed a new political tactic, and it's working," said Cathi Herrod, the group's president. "Throw out the threat of a boycott to attempt to defeat a bill, and you might just be able to be successful."
Similar religious protection legislation has been introduced in Ohio, Mississippi, Idaho, South Dakota, Tennessee and Oklahoma, yet Arizona's plan is the only one that has passed. But on Wednesday, lawmakers in Ohio withdrew legislation that mirrors the Arizona bill. The efforts are stalled in Idaho and Kansas.
There was quick reaction from all corners following Brewer's veto.
"I appreciate the decision made by Governor Brewer to veto this legislation," said Sen. John McCain (R-AZ). "I hope that we can now move on from this controversy and assure the American people that everyone is welcome to live, work and enjoy our beautiful State of Arizona."
The Anti-Defamation League also applauded the governor's action. "Her decision to veto legislation that would have sanctioned discrimination by citizens and businesses against individuals was the right one, and should serve as a guidepost for officials in other states where such pernicious legislation is being considered," the league said in a statement.
The Alliance Defending Freedom said, "Freedom loses when fear overwhelms facts and a good bill is vetoed. Today's veto enables the foes of faith to more easily suppress the freedom of the people of Arizona. Even though the battle has become more difficult, Alliance Defending Freedom stands ready to defend any Arizonan who suffers the indignity of religious discrimination."
Copyright 2014 CBS 5 (KPHO Broadcasting Corporation). All rights reserved. The Associated Press contributed to this report.
UPDATE

Arizona Gov. Brewer vetoes controversial SB 1062

More>>

Wednesday, February 26 2014 9:38 PM EST

2014-02-27 02:38:20 GMT

1 of 3 Republicans explain 'No" vote (2/22/14) Reverend: SB 1062 flies in the face of my religion (2/22/14) AZ business leaders to Brewer: Veto SB 1062 (2/21/14) Rep. Clinco calls AZ's SB 1062 'appalling'

More >

1 of 3 Republicans explain 'No" vote (2/22/14) Reverend: SB 1062 flies in the face of my religion (2/22/14) AZ business leaders to Brewer: Veto SB 1062 (2/21/14) Rep. Clinco calls AZ's SB 1062 'appalling'

More >