No. 20 Sun Devil WBB Cruises to victory on Senior Day
Posted:
Updated: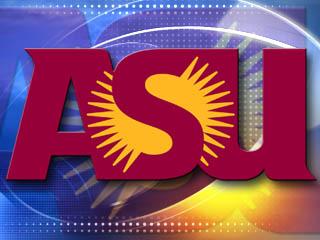 © cbs 5
PHOENIX (CBS5) -
Led by its seniors, the Arizona State women's basketball team cruised to a 60-40 victory over Utah in its final home game of the season on Sunday.
The Sun Devils (22-6, 11-5 Pac-12) were honoring their seniors at Sunday's matchup against the Utes (11-16, 4-12 Pac-12). In front of a crowd of 2,008, Deja Mann, Joy Burke, and Adrianne Thomas took the court at Wells Fargo Arena for the last time in their collegiate careers.
Mann led the team with 11 points, two rebounds, and one assist, while Burke put up 10 points of her own and nabbed two rebounds as well. Thomas was a threat all over the court, tallying six points, four assists, four rebounds, and three steals.
"It's kind of surreal," said Burke of her last home game. "I think when you are an underclassman you want to play hard to remember the seniors, but when you're actually in the moment of it, you realize that this is the last time you'll be in front of this crowd.
"Deja and I have been here for five years, and Adrianne has been here four years. In that long of a period of time you get attached to the fans, the band, and the crowd. It's like being at home. It's very exciting to get the win today and that our team played well and made good adjustments. It's a good way to be remembered leaving here."
The first half saw a slow start for both teams, who struggled to connect offensively. The Sun Devils only had four points in the paint and shot 33 percent in the first half, while the Utes had six points in the paint and shot 42 percent.
Although ASU jumped out to an early lead, Utah chipped away and tied the game with less than three minutes remaining in the half. As the game appeared to be headed into halftime tied at 23-23, Promise Amukamara (6 pts/5 reb) drained a last-second 3-pointer and sent the Sun Devils to the locker room with a 26-23 lead over the Utes.
"I was very much hoping that we were not going to have another close game," said ASU head coach Charli Turner Thorne of the halftime score. "Utah does a masterful job of getting you to play their game and keep it close. They haven't won a lot this year but they've been in every game."
The Sun Devils came out like gangbusters in the second half, outscoring the Utes 8-3 in the first six minutes.
"I think our defense was the biggest adjustment," added Thomas on what ASU did differently in the second half. "That was something we were really trying to focus on—keeping Utah in front of us and out of the paint. They're such a good offensive team and they really take their time with their great sets. I think just digging down and playing deny defense was the big focus of the second half."
Although the Utes managed to stay within single digits early on, the Sun Devils went on a 6-0 run midway through the second half, extending their lead to 14. ASU would lead by as many as 22 and would not have to rely on any late-game heroics to pull out a victory as has been the case in several games this season.
"This is something I want this team to be able to build on for the rest of the season, being able to build on a lead," explained Turner Thorne. "I thought they really worked hard and came out strong to start the second half, which is not something we have been doing. That's progress for us and it was great."
Utah was led by Michelle Plouffe (10 pts/7 reb) and Malia Nawahine (12 pts).
"We wanted to deny her and help on her down low," said Turner Thorne of ASU's strategy for defending Plouffe. "I thought that Kelsey [Moos] and Eliza [Normen] really took a step forward today with their defense and making a great player work. We didn't really double team too much because we made it so difficult for her to touch the ball. I thought Kelsey and Eliza did a really great job. We were not going to let Plouffe take us down to the right block and isolate against us all day."
Next up, the Sun Devils head to Oregon for a two-game road trip to close out the regular season. ASU faces Oregon at 8 p.m. (MT) on Friday, Feb. 28, followed by Oregon State at 2 p.m. (MT) on Sunday, Mar. 2. Both games will be streamed live.
Copyright 2014 CBS 5 (KPHO Broadcasting Corporation). All rights reserved. The Associated Press contributed to this report.