ASU Wrestling falls to No. 6 Oklahoma State, 29-10
Posted:
Updated: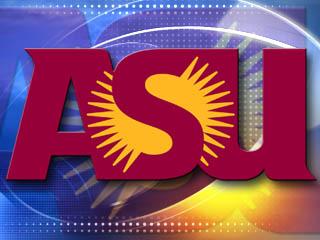 © cbs 5
PHOENIX (CBS5) -
The Arizona State wrestling team dropped its regular-season finale, 29-10, to No. 6 Oklahoma State on Friday night at Gallagher-Iba Arena.
The Sun Devils will finish the dual slate at 9-8 overall while the Cowboys improve to 10-5 on the year.
ASU's three wins on the night came first at 174, when Ray Waters picked up a 4-2, sudden victory decision over Quinten Patterson, breaking Oklahoma State's shutout.
Blake Stauffer followed with an 11-2 major decision over Jordan Rogers at 184-pounds. Stauffer has won his last 10 duals, and the major decision is his fifth in that span. On his career, Stauffer is 10-0 in major decisions.
The final ASU win of the night came at 197 as Wesley Moore picked up an 8-4 decision over Darnell Bortz.
Up next, the Sun Devils will make the trek to Palo Alto, Calif., for the Pac-12 Wrestling Championships on March 2. Action will start at 11:30 a.m. MT on the Pac-12 Networks.
Complete Results
Oklahoma State 29, Arizona State 10
125-Edward Kilmara (OKST) def. Ares Carpio (ASU): Major 19-5
133-Jonathon Morrison (OKST) def. Cord Coronado (ASU): Tech 22-4
141-Anthony Collica (OKST) def. Matt Kraus (ASU): Dec 4-2
149-Joshua Kindig (OKST) def. Preston McCalmon: Dec 6-3
157-Alex Dieringer (OKST) def. Joel Smith: Fall 4:11
165-Tyler Caldwell (OKST) def. Nick Rex: Tech 25-10
174-Ray Waters (ASU) def. Quinten Patterson (OKST): SV1 4-2
184-Blake Stauffer (ASU) def. Jordan Rogers (OKST): Major 11-2
197-Wesley Moore (ASU) def. Darnell Bortz (OKST): Dec 8-4
HWT-Ethan Driver (OKST) def. Chace Eskam (ASU): VS-1 3-1
Copyright 2014 CBS 5 (KPHO Broadcasting Corporation). All rights reserved.