UFC challenger goes from coffee stand to contender
Posted:
Updated:
Written by Kevin Bolinger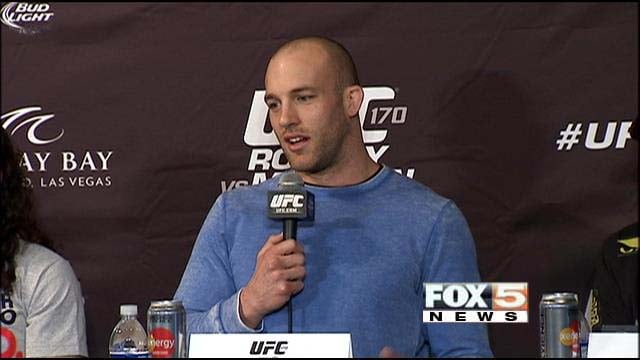 Patrick Cummins appears at a press conference ahead of UFC 170. (FOX5)
LAS VEGAS (FOX5) -
The UFC is back in town with a big card on Saturday night at Mandalay Bay.
Ronda Rousey may have top billing in UFC 170, but the backstory on the co-main event is what has everyone talking.
Imagine being plucked from obscurity, a low-wage job, and told your dream would come true. It's the fight of a lifetime, and you only have nine days to prepare. That's exactly what happened to Patrick Cummins.
Cummins, a former All-American wrestler at Penn State, dreamed of fighting in the UFC, but never got the chance.
At 33 years old, it seemed like that dream was fading. Then fate intervened. Last week, fighter Rashad Evans was injured training and had to bow out of his fight against Daniel Cormier.
UFC president Dana White thought the fight would be scratched. However, last Thursday he caught wind of a Twitter war between Cormier and Cummins, who wanted to step in.
White saw an opportunity and tried to call Cummins at work, a southern California coffee stand where he manned the drive-thru. White had someone else at the coffee stand get Cummins on the phone.
"His manager says he's working, he can't talk on the phone right now. So he [an employee] goes over to the window, hands him the phone and he [Cummins] says, 'Yeah, I want this fight,'" White said.
The phone call cost Cummins his job.

Cummins is now living his dream, getting his opponent riled up enough during a press conference to give him a shove.
"I feel like we've gotten really close in the past week, so I'm gonna call you Dan. Are you OK with that?" Cummins asked Cormier.
"And I'm gonna beat you up on Saturday. Are you OK with that?" Cormier replied.
Cummins can fight better than the average barista. He fought in Strikeforce and has been training for his big break. Still, he's a 15-1 underdog.
Copyright 2014 KVVU (KVVU Broadcasting Corporation). All rights reserved.