Phoenix businesses struggling along light-rail expansion
Posted:
Updated: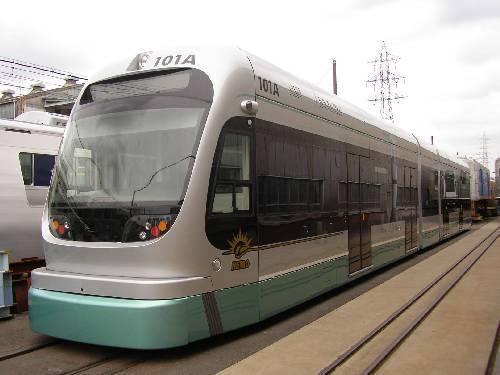 © CBS 5 News / FILE
PHOENIX (CBS5) -
Business owners in northwest Phoenix are learning the costly price of doing business. Since light-rail construction began along 19th Avenue, many businesses have been struggling to survive.
Construction began at Montebello and 19th Avenue and will extend north to Dunlap - that's 3.2 miles of construction.
A representative for Valley Metro said the project is 40 percent complete.
For Patrice Dwyer, running Shamrock Shoe Repair isn't just a job, it's a way of keeping her husband's legacy alive.
"My husband and I have owned this business since 1985. My husband died in 2001," Dwyer said.
Now, she fears she's going to lose her business too.
"It'd kill me," Dwyer said.
Dwyer said since light-rail construction began along 19th Avenue, business has been down by about 60 percent.
Construction started in January 2013 and is expected to last through early 2016.
Susan Tierney with Valley Metro said the business assistance program will help business owners during this time.
"We have marketing tools that we can offer. We also have what's called a metro-max rewards program that we encourage businesses along the light-rail construction area to offer discounts, then we promote those discounts," Tierney said.
But George Wimberly with George and Dragon Pub said that wasn't enough for him.
"Good luck to everybody up there. Good luck," Wimberly said.
When the light-rail expanded along Central Avenue, Wimberly had to spend $350,000 of his savings to survive.
Wimberly encourages northwest business owners to band together.
"They need to get together and get some kind of promotion to say, 'Come and promote your local businesses along the light-rail. If you like us and want us to be here in two years, you need to make a way and find a way of getting to us.' It's the only way they're going to be in business," Wimberly said.
Kara McAllilster-Dommel with Hair Again has done just that and says her efforts are paying off.
"Lots of businesses maybe feel differently, but I feel like it's actually bringing more business to me," McAllilster-Dommel said.
Meanwhile, Dwyer just hopes she can hang on.
"I've survived a lot," Dwyer said.
Copyright 2014 CBS 5 (KPHO Broadcasting Corporation). All rights reserved.