Police: Fight sparked wedding reception shooting
Posted:
Updated:
Written by Matt Guillermo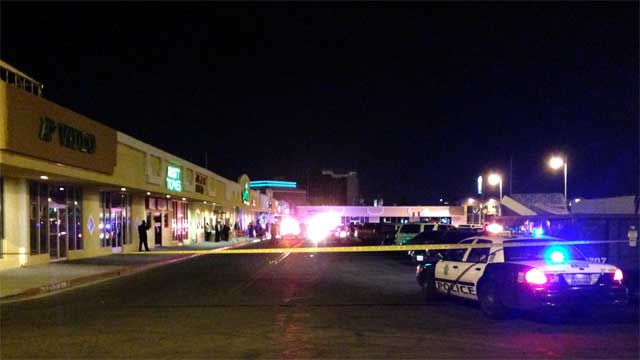 Crime scene tape surrounds the parking lot of a strip mall Feb. 16, 2014, after a shooting. (Arron Healy/FOX5)
LAS VEGAS (FOX5) -
A fight between two men inside a Las Vegas banquet hall bathroom prompted a shooting in which five people were wounded, documents showed.
An arrest report was disclosed Tuesday for Peter Andrade, 24, who was arrested after Las Vegas Metro police responded to calls of gunshots at El Placio Del Sol banquet hall during a wedding reception on Feb. 15.
According to police, several witnesses and victims identified Andrade as the person who shot a man, wounding him 10 times in a bathroom before storming out and going after several more people.
Police said Andrade was tackled to the ground and kicked by several people at the reception. During the scuffle, at least three more shots were fired, resulting in injuries to four more people, according to the report.
Documents said Andrade's girlfriend was able to free him from the mob, enabling them to escape to the parking lot. It was there where security officers and police detained Andrade, the arrest report said.
Police said the injuries to the five victims were considered not life-threatening, though, one of them was rushed to University Medical Center in critical condition.
In documents, Andrade denied ever having a firearm with him while at the reception hall. He claimed he was attacked by three people inside the men's bathroom before a scuffle spilled out into the reception hall, according to documents.
Andrade also told police he had ties to a prison gang, which was in dispute with a gang affiliated by members of his girlfriend's family. The wedding, police noted, involved members of Andrade's girlfriend's family.
Andrade's girlfriend also denied seeing her boyfriend armed before or during the reception, though, she related he had an ongoing conflict with someone at the reception. In documents, she told police they were about to leave the reception before the shooting happened.
Andrade's girlfriend also mentioned a prior incident in which one of the victims nearly came to blows with her at a baby shower before the wedding, according to the arrest report.
Andrade was booked into Clark County Detention Center on five counts of attempted murder with a deadly weapon, a count of battery with use of a deadly weapon, a count of carrying a concealed weapon without a permit, a count of possession of a gun by a prohibit person and a count of discharging a gun at or into an occupied structure.
Copyright 2014 KVVU (KVVU Broadcasting Corporation). All rights reserved.