ASU T&F's Houlihan set indoor record In 3,000m, Sun Devils wrap up Don Kirby Invite
Posted:
Updated: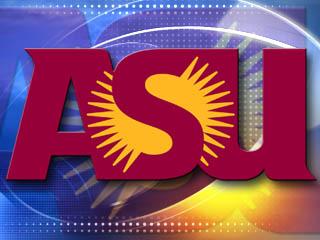 © cbs 5
PHOENIX (CBS5) -
The Arizona State track and field teams wrapped up competition at the Don Kirby Invitational and Husky Classic on Saturday with junior Shelby Houlihan shattering ASU's indoor record in the 3,000m with a time of 9:05.86.
The Sioux City, Iowa native took fifth in the race in Seattle, Wash., breaking the record that former Sun Devil Lisa Aguilera set in 2002 when she ran 9:09.67.
"Shelby ran a good, strong race today, and completed our number one goal to get a qualifying time for nationals," women's distance coach Ryan Cole said. "She had some great competition in the run, and that really pushed her going through the race. We're ready to see her continue through the season to ultimately get a win at nationals."
In Albuquerque, seven individual Sun Devils set season or personal bests at the Don Kirby Invite on the Albuquerque Convention Center.
Senior Heather Arseneau set a new personal best for the third time this season, clearing 4.21m (13-9.75) on her final attempt and finishing in fifth overall. This new mark remains at No. 3 in the indoor record book, behind senior Shaylah Simpson's 4.22m (13-09.50) clearance from last season.
Arseneau's previous personal best was 4.17m (13-8.25), also set at the Albuquerque Convention Center at the New Mexico Team Invite on Feb. 1.
Saturday, Simpson cleared 4.01m (13-01.75) for the first time this season and finished 14th overall, while redshirt Amber Pasternak edged her career best with a clearance of 3.71m (12-2.00) for 28th. Her previous best was 3.70m (12-1.50).
Redshirt senior Anna Jelmini took second in the shot put, edging her pervious season best of 16.81m (55-2.00) with a toss of 16.83m (55-2.75). Redshirt freshman Ashley Weber finished in sixth at a personal best 15.36m (50-2.75), topping her pervious mark of 14.51m (47-7.25) from the Lumberjack Challenge on Jan. 18
Also in the women's shot put for the Sun Devils, redshirt junior Alex Hartig took 10th at 14.31m (46-11.50).
On the men's side, redshirt freshman Thomas Anderson set a new personal best as he finished sixth with a throw of 18.45m (60-6.50). His previous best was 18.40m (60-4.50) from the NAU Invite on Jan. 24.
Redshirt junior Kyle Lillie threw 17.60m (57-9.00) for ninth overall, shattering his personal best of 17.21m (56-6.75), while redshirt senior Nathan Estes finished in 15th at 16.38m (53-9.00), his second-best mark this year. Redshirt freshman Kyle Long finished in 24th at 15.26m (50-0.75).
The 4x400m relay teams each finished second, with the women's team of Sara McDonald, Sarah Geren, LaTroya Franklin, and Brianna Tate finishing at 3:36.91, while the men's team of Keith Cleveland, Devan Spann, Daveon Collins, and Will Henry finished at 3:07.59. Both times mark new season bests.
Redshirt senior Ryan Milus ran the fastest time of the 60m dash prelims at 6.63, while freshman Tatum Benard-Taylor also qualified for the finals with a fifth-best 6.73. In the finals, Milus took second at 6.65, while Benard-Taylor finished in fourth at 6.67.
Senior Alycia Herring qualified for the women's 60m dash finals with a time of 7.70 in the B-section, and finished seventh overall at 7.63 in the finals. Sophomore Jasmine Gibbs was ASU's lone qualifier from the A-section with a time of 7.51, and finished sixth in the finals at 7.45.
In the women's 400m dash, junior Brianna Tate finished third overall at 53.96, while junior Sara McDonald finished seventh at 54.99. On the men's side, senior Will Henry took fourth at 47.16, while fellow senior Keith Cleveland finished eighth at 47.57.
Freshman Micha Auzenne took fourth in the prelims for the 60m hurdles with 8.38, and ran 8.34 in the finals for third, both times shattering her previous personal best of 8.52m, set at the New Mexico Invite on Feb. 1.
Also at the Husky Classic in Seattle, Wash., freshman Kala Stone finished third in her heat and 12th overall at 2:12.00.
Freshman Chelsey Totten set a new personal best in the mile as she finished in 4:56.00 for 22nd over all and fifth in her heat. On the men's side, freshman Bernie Montoya won his heat of 4:07.46, which was 13th overall, while redshirt sophomore Tommy Williams was 25th overall at 4:10.83.
In the men's 3,000m run, redshirt sophomore Ryan Herson finished first in the third section and second overall in a crowd of 71 runners with a personal best 8:09.81. Freshman CJ Albertson finished 38th at 8:26.65.
On the woman's side of the 3,000m open junior Payton Schutte won her heat and finished second overall at 9:49.40.
Up next, the Sun Devils take a week off before the entire team makes the trek to Seattle, Wash., for the MPSF Indoor Track and Field Championships on Feb. 28-March 1.
Copyright 2014 CBS 5 (KPHO Broadcasting Corporation). All rights reserved. The Associated Press contributed to this report.