Another school-record toss for Jordan Young
Posted:
Updated: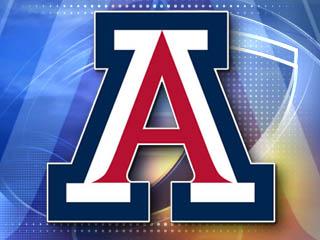 © cbs 5
PHOENIX (CBS5) -
The University of Arizona Wildcat No. 8 men's and No. 23 women's track and field teams are split up among three meets this weekend. The distance runners are competing at the Husky Classic in Seattle, Wash. Senior Lawi Lalang is joined by volunteer assistant coaches Bernard Lagat and Georganne Moline and they will compete in the Millrose Games in New York, N.Y. The jumpers, sprinters and throwers are competing in the Don Kirby Elite in Albuquerque, N.M. In Seattle, the running events begin at 8 a.m. PST on Saturday. On Saturday in Albuquerque, the running events begin at 10:45 a.m. while the field events will commence at 11 a.m. Albuquerque, the site of the 2014 NCAA Indoor Championships, has been the location for three school records thus far in the 2014 season.
Freshman Jordan Young set the school record in the weight throw for the third time this season. He threw 70-2.25 (21.39m) on his third attempt, which broke his previous record. His fourth throw was an improvement again, 71-2.75 (21.71m). His fifth toss was his best of the day, 71-6.75 (21.81m). That mark currently ranks as the No. 7 throw in the country, excluding results from other meets on the day. He earned a first-place finish overall. His previous school record came in the Albuquerque Convention on Jan. 27, 2014 when he threw 69-11.75 (21.33m).
"It's awesome," Young said. "Last week, in New York, I figured out that it's not how hard I throw, it's how precise I throw. My strategy today was to go in, hit my positions and throw far. It felt great. (Being able to stay focused) It was a lot of my coach (Craig Carter) telling me what was going on and what I needed to fix. I had a couple other coaches comment on my technique and how it really improved throughout the competition. It was just staying relaxed, staying focused and getting ready for each throw. I'm feeling great, I got a few more feet left in me this year so hopefully I'm going to throw big there."
Senior Shapri Romero clocked a time of 23.61 in the 200-meter sprint, a personal best and good for No. 17 in the U.S., excluding other results from around the country on the day. That time was good for fourth place overall. Senior Germe Poston posted a time of 24.45 (18th place) and sophomore Nnenya Hailey had a personal-best time of 24.52 (22nd place). Sophomore Traci-Lynn Hicks took 23rd place with a personal-best time of 24.55. Senior Tamara Pridgett ran 24.78, the No. 3 time of her career. Junior Mohammad Alhasan's time of 21.64 in the 200-meter sprint was a personal-best time and was good for 19th place overall.
In the women's 600-meter race, sophomore Morgan Struble won heat one and took third place overall with a time of 1:35.14. Freshman Lizzie Smith finished in fourth place overall with a time of 1:36.17. Freshman Jasper Gray's time of 1:36.64 was good for 6th place. Senior Taylor Cole finished in eighth place with a time of 1:37.71. On the men's side, there was nasty collision about 150 meters into the race, freshmen Miles Parish and Bryce Houston both hit the deck. Junior Neil Houlihan had a time of 1:22.05 and took seventh place overall. Houston took 14th place with a time of 1:28.77. Parish had a time of 1:28.80 and took 15th place.
In the men's long jump, freshman Avery Mickens had a personal-best jump of 23-6.25 (7.17m) and earned a fifth-place finish overall. Freshman Aleah Hurst set a personal-best mark in the women's long jump, 18-7 (5.66m). Sophomore Ali Rodseth posted a personal-best mark of 17-9.5 (5.42m).
"We had a really good day," head coach Fred Harvey said. "We're getting ready to go into the conference meet (MPSF Championships) and we wanted to see certain things happen, more on a competitive point-of-view, how people were going to come out and react. I thought we did really well. The 600's went according to plan on the ladies' side, Morgan Struble ran a two-second personal best and Taylor Cole had a personal-best as well. One of the great highlights was Jordan Young breaking another school record; he had a great series in the weight throw. We're really excited for him, that's going to be huge for us at the NCAA Championships. In the women's 200 meters, Shapri Romero had a really nice personal best and she looked really sharp going into the conference meet. In the men's long jump, Avery Mickens also had a personal best and he had a really nice foul that would have been around 25-0 so we're pleased with that. The (women) high jumpers competed well, they were figuring some things out but they give us a really good opportunity going into the MPSF Championships. All in all, I'm really pleased with how everybody competed and now we have to get ready for the big day tomorrow, today was an exciting day but we want to keep the ball rolling tomorrow."
In Seattle, sophomore Kayla Beattie ran in the 5K invitational section and clocked a time of 16:22.11, good for 17th place overall. Junior Clea Formaz ran 17:11 in the women's 5K open section, she took 30th place overall. Junior Stephanie Bulder had a personal-best time of 16:48.85 in the women's 5K open section, earning a 14th-place finish. Junior Kenji Bierig had a time of 14:34.45 in the men's open 5K. Sophomore Thomas Valente had a personal-best time of 15:05.33 in the men's 5K open section.
Lalang will be competing at the Millrose Games for the third-straight year. He has been incredibly successful at The Armory, in 2012, his sophomore year, Lalang set the collegiate record in the 5K, posting a time of 13:08.28. In 2013, Lalang also competed in the Wannamaker Mile and set a school record with his time of 3:54.56. That time is also the No. 3 time in collegiate history for the event. This race will be Lalang's first mile of the season. He already holds the No. 1 time in the country for the men's 3K at 7:44.20.
Lalang will be joined at the Millrose Games by two volunteer assistant coaches for the Wildcats. Bernard Lagat, arguably the most successful distance runner in American history, will compete in the 2,000-meter race on Saturday at 3:56 p.m. EST. Lagat has also run at the Millrose Games for the last two years and he set American records on both occasions. In 2012, he competed in the same 5K race that Lalang ran in, he beat Lalang and set the American record in a time of 13:07.15. In 2013, Lagat ran the two-mile race and clocked a time of 8:09.49.
Former Wildcat and 2013 graduate Georganne Moline will compete in the 300-meter race (elite section) on Saturday at 4:17 p.m. EST. Moline, running for Nike, will be making her 2014 season debut. She also ran at the 2013 Millrose Games and earned a third-place finish in the 400-meter race with a time of 53.23.
A total of eighteen events will be held during the NYRR Millrose Games' prime-time window on NBC Sports Network. Among those included are both the men's and women's NYRR Wanamaker Mile. Saturday's broadcast time is set for 3-5 EST on NBCSN, so all the athletes with ties to Arizona will be broadcast.
For complete results from the meet and continued coverage of Arizona Wildcat men's and women's track and field, visit ArizonaWildcats.com and follow @ArizonaTrack on Twitter.
Copyright 2014 CBS 5 (KPHO Broadcasting Corporation). All rights reserved.