Police officers to face charges in alleged theft of cell phone
Posted:
Updated: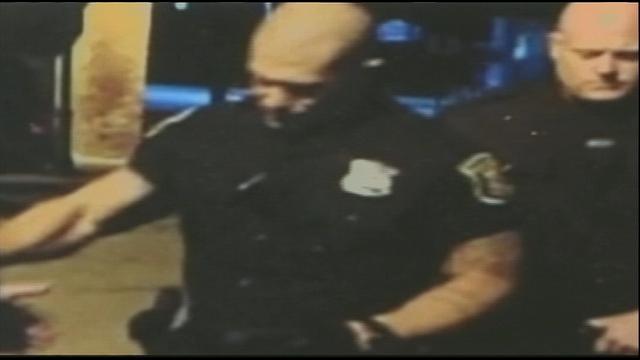 The officers in question are featured in cell phone footage captured on May 1.
BAY CITY, MI (WNEM) -
Months after three Bay City police officers were accused of taking a man's cell phone during an arrest, the investigation into the incident is over and charges are now going to be filed against two of them.
The Midland County Prosecutor's office agreed to review an investigation into the conduct of several former Bay City police officers as Special Prosecutor after it was determined a conflict existed with the Bay County Prosecutor.
After an intensive review of a detailed investigation by a number of agencies, Midland County Prosecutor Erik Wallen authorized criminal charges arising out of the May 1, 2013 incidents at Steamer's Pub, at 108 N. Linn St. in Bay City.
"In making our charging decisions, we looked at the conduct of Officer's Bartynski, Aldrich and Ritchey that evening," said Wallen in a written statement. "I believe in the integrity of the criminal justice system which fundamentally assumes that no one is above the law, including these officers."
Officer Keath Bartynski is charged with "Public official-willful failure to uphold the law" and assault and battery, both misdemeanors punishable by fines and some possible jail time.
Officer Donald Aldrich is charged with larceny of between $200 and $1,000 and disorderly conduct, both misdemeanor punishable by fines and some possible jail time.
No charges have been filed against Officer Brian Ritchey.
"While I believe Officer Ritchey used poor judgment and failed to comply with police departmental rules and protocols, no criminal charges are being issued against him. In addition, Officer Ritchey has been cooperative with authorities and has provided critical information of the events in question," said Wallen in the written statement.
Wallen went on to say that the public is reminded that the complaints contain only charges and are not proof of the defendant's guilt.
To read more about the May 1 incident, click here.
Click here to sign up for Breaking News texts, here for our email newsletters and alerts and here to follow us on Twitter.
Copyright 2014 WNEM (Meredith Corporation). All rights reserved.