Sun Devil Wrestling to travel To Cal Poly, Cal State Bakersfield this week
Posted:
Updated: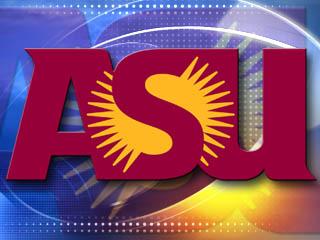 © cbs 5
PHOENIX (CBS5) -
The Arizona State wrestling team (7-7, 2-1 Pac-12 duals) will round out the Pac-12 slate this week, traveling to Cal Poly and Cal State Bakersfield for a pair of duals on Friday and Sunday, respectively.
The dual at Cal Poly is set for 8 p.m. MT/7 p.m. PT, while the Cal State Bakersfield dual will start at 6 p.m. MT/5 p.m. PT.
THINGS TO KNOW
The Sun Devils will be far from home for its final dual of the regular season, traveling to Stillwater, Okla., to take on Oklahoma State on Friday, Feb. 21 at 6 p.m. MT. Following that dual is the 2014 Pac-12 Wrestling Championships on Sunday, March 2 in Palo Alto, Calif. All the action will be broadcast on the Pac-12 Networks.
SCOUTING CAL POLY
The Mustangs (3-8, 1-3 Pac-12) dropped a pair of home duals last week, falling to South Dakota State, 31-10, before dropping a 24-9 decision to Pac-12 foe Stanford. Against the Cardinal, Cal Poly's wins came in the form of a sudden victory at 197 by Nicolas Johnson, a 3-2 decision at 125 by Britian Longmore, and a 9-2 decision at 141 by Victor Trujillo.
Probable Lineup
125: Britian Longmore (13-12)
133: Devon Lotito (19-8)
141: Victor Trujillo (18-10)
149: Kyle Chene (13-11)
157: Luke McDonald (8-10) or Xavier Johnson (3-12)
165: Travis Berridge (13-14)
174: Dominic Kastl (15-4)
184: Sean Dougherty (11-11)
197: Nicolas Johnson (6-15)
HWT: Spencer Empey (12-10)
SCOUTING CAL STATE BAKERSFIELD
The Roadrunners (6-7, 1-3 Pac-12) split its last two matches, defeating Cal Baptist 20-15 before falling to Oklahoma State, 36-7. Against the Sooners, Cal State Bakersfield picked up wins at 197 via a 6-4, sudden victory decision by Reuben Franklin and a major decision at 133 by Jose Mendoza, 13-2.
Probable Lineup
125: Matt Correa (11-14) OR Sergio Mendez (11-16)
133: Jose Mendoza (26-11)
141: Ian Nickell (19-10)
149: Dalton Kelley (16-16)
157: Spencer Hills (15-12)
165: David Menza (17-15)
174: Bryce Hammond (16-10)
184: Sean Pollock (11-21)
197: Reuben Franklin (21-16)
HWT: Sammy Cervantes (10-18) OR Alex Encarnacion-Strand (4-7)
LOOKING BACK
Sun Devil wrestling picked up its third upset of the season in its home finale, defeating Oregon State, 17-16, in a Pac-12 contest. Prior to the match the Beavers were undefeated in league action.
ASU struck first with a decision from Ares Carpio at 125, but the Beavers quickly tied things up at 133. At 141, Matt Kraus picked up four team points with a 13-1 major decision before OSU's decision at 149 cut ASU's lead to 7-6.
Oregon State scored a major decision at 157 to go up, 10-7, before Nick Rex picked up a 5-2 major decision in his final home wrestling match in a Sun Devil uniform to retie the dual at 10-10.
At 174, the Beavers picked up the team score lead with three points before Blake Stauffer's major decision at 184 gave ASU a 14-13 edge. Wesley Moore gave ASU a four-point advantage with a 6-2 decision at 197, and the Sun Devils secured the win as Oregon State could only pick up three points at heavyweight.
HEATING UP THE POLLS
With his major decision win over Oregon State's Austin Morehead, Blake Stauffer has moved up to No. 16 at 184 by Amateur Wrestling News.
JOEL SMITH AND THE SPEEDY PINS
Joel Smith currently owns three of the fastest pin times so far this season, starting with his 18-second victory at the Cowboy Open on Nov. 2. Smith's pins at the Virginia Duals, 0:37 over Nebraska-Kearney's Colton Johnson and 1:30 over Old Dominion's Tristan Warner, are the second and third quickest pins in 2013-14, respectively.
Smith also recorded a pin in 4:03, and is second on the team with four, followed Ray Waters (165/174) who has six.
MORE ON PINS
Ray Waters' (165) pin of SIUE's Logun Taylor at 1:59 on Nov. 16 marks the fifth-quickest pin so far this season. Waters has recorded five more falls, which leads the team. His 2:31 takedown of Josh VanTine in ASU's dual with Northern Colorado marks the sixth-fastest time, and his 3:20 pin over Boise State's Cole Rice places him in eighth. Waters also recorded a pin at 3:49 over Harvard's Colton Peppleman is at No. 10 on the list.
Copyright 2014 CBS 5 (KPHO Broadcasting Corporation). All rights reserved.