DPS employees investigated for issuing unauthorized licenses
Posted:
Updated: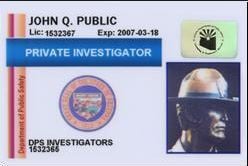 MESA, AZ (CBS5) -
A possible scandal is brewing inside Arizona's Department of Public Safety.
Authorities have confirmed that an internal investigation is underway to determine if some DPS employees were paid off to distribute unauthorized licenses.
DPS issues licenses for private investigators, private security companies and security guards.
A private investigator license would allow an individual to have access to Arizona's Motor Vehicle Division records - allowing them to run someone's license plate, see who's behind the wheel of a car, and find out where they live.
A PI license also allows someone to do background checks - looking up someone's criminal history and their financial records.
There are a number of requirements to obtain a private investigator's license.
Among them:
Three years investigative experience
Not a registered sex offender
Not a convicted felon
Must be a U.S. citizen
Rich Roberston runs a private investigation firm in the East Valley called R3 Investigations.
He said the licensing process is put in place to protect the public.
"The idea that when consumers buy these kinds of services - they know that the people they're paying have passed criminal background checks and meet minimum requirements," said Robertson.
DPS officials would only confirm an investigation is underway and won't release their findings until sometime next month.
Copyright 2014 CBS 5 (KPHO Broadcasting Corporation). All rights reserved.