UPDATE
Phoenix police step up patrols, school sends letter after threat
Posted:
Updated: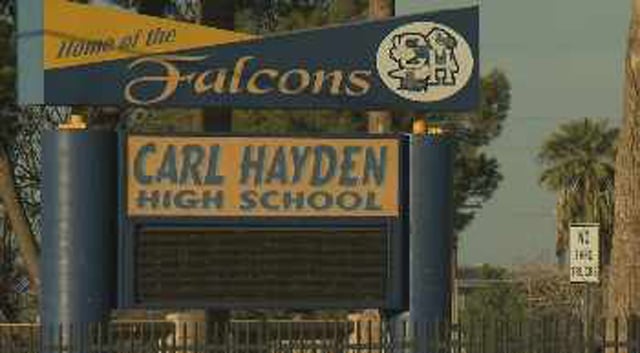 © CBS 5 News
PHOENIX (CBS5) -
Phoenix police said they are stepping up patrols at a Valley high school after a threat was found in one of the bathrooms on Tuesday.
Sgt. Steve Martos said he could not elaborate on the nature of the threat discovered at Carl Hayden High School at 3333 W. Roosevelt St.
The school resource officer was informed of the threat and Phoenix police joined the investigation.
Martos said beyond increasing patrols, the school may be taking additional security measures, but stopped short of elaborating.
Craig Pletenik of the Phoenix Union High School District said the school administration learned of the threat on Tuesday, and said that the district was going to notify parents on Thursday.
"... We planned to send a letter home today (Thursday) after conducting a thorough investigation, working with police, staff and students," Pletenik said. "We always use our professional judgment before we notify parents so that we can give the most recent and accurate information to insure a safe and orderly climate for instruction at our schools."
Following is the contents of the letter sent to parents.
Dear Parent/Guardian:
This letter is to let you know that we received a threat directed at Carl Hayden High School for Friday, February 14. We believe it is important to inform parents about any event that might impact our campus and students.
We take any threat very seriously, and our District and our administration have been working with authorities to investigate the threat. While threats are most often hoaxes, they are none-the-less disruptive to the education of our children and their feelings of security on campus. We encourage you as parents and community members to report any suspicious activity or share any information that may aid us in this investigation.
Despite the rumors, or what your student may have reported, classes will be held as scheduled. We will have increased security measures in place.
Our number one priority at Carl Hayden is to provide a safe and secure learning environment for our students and staff, and we will always act in the interest of caution. If you have any comments or questions regarding this situation, please contact me at 764-3035.
Sincerely,
Ricardo Cordova
Principal, Carl Hayden High School
Stay with cbs5az.com and CBS 5 News for updates on this developing story.
[Click here to sign up for breaking news alerts]
Copyright 2014 CBS 5 (KPHO Broadcasting Corporation). All rights reserved.