CONTEST
Winners of CBS 5's Medal Mania Sweepstakes
Posted:
Updated: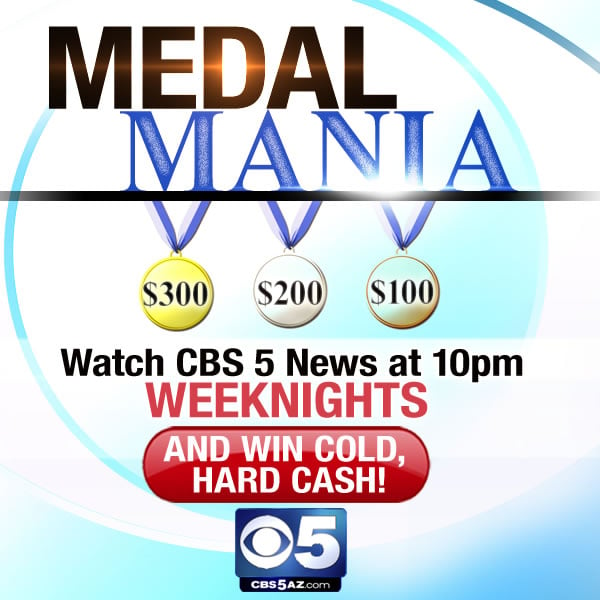 PHOENIX (CBS5) -
CBS 5 has given away a mortgage for a year, a new car, Disney vacation packages and now cold, hard cash.
Watch CBS 5 News at 10 p.m. weeknights, get the code, "Like" our Facebook page and enter to win.
Three daily winners will be announced on CBS 5 10 p.m. News each weeknight - 30 winners in all. One Gold Medal Winner will receive a $300 check, one Silver Medal Winner will receive a $200 check and one Bronze Medal Winner will receive a $100 check. One prize per household.
Medal winners from Friday night:
Gold: Nancie Cornwall, Sun City West
Silver: Teresa H., Phoenix
Bronze: Christy Avila, Scottsdale
Thursday's winners:
Gold: Rob Blouch, Glendale
Silver: Rachel Merrell, Taylor
Bronze: Lori Gooch, Phoenix
Here's a look at Wednesday's winners:
Gold: Deborah Mioducki, Casa Grande
Silver: Iris McNelly, Surprise
Bronze: Tina Hofmann, Phoenix
Here is who won Tuesday's drawing:
Gold: Joanne Brakenbury, Phoenix
Silver: Kathy Storey, Maricopa
Bronze: Connie Lataille, Surprise
Here are the medal winners for Monday, Feb. 18:
Gold: Wilma Botticher, Mesa
Silver: Nancy Dorffi, Flagstaff
Bronze: Karla Schmidt, Phoenix
Medal winners from Friday night:
Gold: Deanna Cook, Phoenix
Silver: Erik Krouse, Mesa
Bronze: Lonzenia Slater, Phoenix
In case you missed Thursday's winners:
Gold: LaDonna Bradley, Glendale
Silver: Cynthia Sayles, Cottonwood
Bronze: Charlie Stutts, Kingman
Wednesday's winners were:
Gold: Liqa AlWard, Peoria
Silver: Sue Hopkins, Mesa
Bronze: Charles Hough, Peoria
Here are the winners from Tuesday:
Gold: Orville Short, Flagstaff
Silver: Maggie Maes, Scottsdale
Bronze: Donna Stout, Queen Creek
Here are last Monday's winners:
Gold: Gregory Vanosdell, Avondale
Silver: Marybeth McCormack, Casa Grande
Bronze: Cynthia Werth, Sun Lakes
Entries related to each Monday through Friday evening newscast must be received each weeknight between 10:00 p.m. and 11:59 p.m. M.T.
The sweepstakes end February 21, 2014.
Click here for the Official Rules.
Copyright 2014 CBS 5 (KPHO Broadcasting Corporation). All rights reserved.