UPDATE
6 homes still evacuated after Gilbert house blast
Posted:
Updated: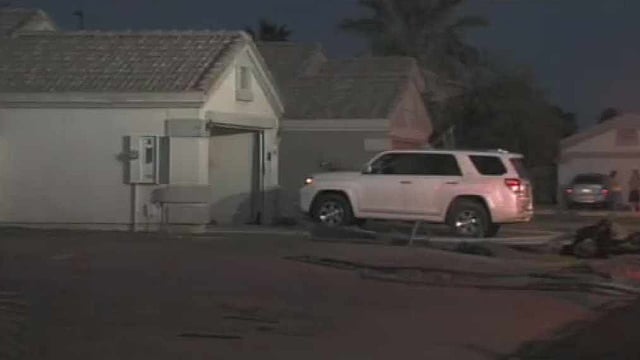 © The garage door of this Gilbert home was blown out and a man severely burned when he lit a cigarette and sparked an explosion Sunday afternoon. (Source: CBS 5 News)
GILBERT, AZ (CBS5) -
Six homes remain evacuated in the wake of an explosion that severely burned a man at his Gilbert home Sunday afternoon while a natural gas company found and capped a leak in the immediate area.
At the height of the incident around 5 p.m. Sunday, officials ordered residents in 24 homes in the neighborhood to flee.
Gilbert fire spokesman Brian Ruffentine said the victim was doing some renovation work on the house and went to the garage to have a cigarette. The blast happened about 4 p.m. as he tried to light the cigarette, Ruffentine said.
[Click here to visit the donation web page for the victim]
The unidentified man was taken to the Maricopa County Medical Center's Burn Unit with burns over 80 percent of his body, including his chest, legs, arms, hands and face. Ruffentine said he did not believe the burns were life-threatening, but the man was in very serious condition.
Firefighters initially thought the source of the explosion was a pile of rags that contained paint-thinner fumes in the garage of the house at 1914 E Palomino Dr. at about 4 p.m., Ruffentine said.
But as the firefighters were wrapping up, the Gilbert hazmat team came to meter the area and received "hits" of natural gas, Ruffentine said.
The puzzling part is that the house does not have a natural gas source, although the neighborhood and others nearby have enough natural gas lines that an underground gas leak was possible, Ruffentine said.
[FIND: General information about natural gas lines in Arizona.]
Southwest Gas Corp. did find a leak in one of its lines in the area and capped it, but technicians continued to find positive gas readings in the area.
"Once we get the gas reads down to a zero level we'll be able to lift that evacuation and people should be able to get back in their homes," said Amy Washburn of Southwest Gas.
Resident Debby Davis said residents had to leave their cars and couldn't operate their garage door openers for fear a spark could cause a bigger explosion. Evacuees were taken to a nearby park, and then to the Gilbert Police Department while the investigation continued Monday.
Some residents had been allowed to return to their homes to grab pets and some personal items, but they had to be escorted and were only allowed about 10 minutes to do so.
Stay with cbs5az.com and CBS 5 News for updates on this developing story.
[Click here to sign up for breaking news alerts]
Copyright 2014 CBS 5 (KPHO Broadcasting Corporation). All rights reserved.