Immigration reform delay creates frustration in AZ
Posted:
Updated: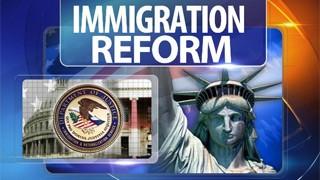 PHOENIX (CBS5) -
Arizona remains front and center in the debate over immigration, but the big news this week came from Washington D.C., when U.S. House Speaker John Boehner cast doubts on whether immigration reform will happen this year.
Immigration reform activist Erica Andiola was not surprised.
The undocumented immigrant and co-founder of the Dream Action Coalition has been leading the fight for change.
"We want to be able to understand the politics, but at the same time it's frustrating," said Andiola. "I know they're still thinking about elections and how it will affect their party, but for us undocumented people, we want to have something right now that will bring us relief."
But immigration reform is about more than just keeping families together and pulling people out of the shadows.
Chad Heinrich with the Greater Phoenix Chamber of Commerce told CBS5 that a new study from Regional Economic Models, Inc. states, that immigration reform could generate close to $300 million a year to Arizona's economy, and increase personal income across the state by $168 million.
"Immigration reform would provide almost a rocket fuel boost to Arizona's economy," said Heinrich. "It's a vital priority. There's no other area of policy where we see as much agreement within business community."
So why then aren't more conservative lawmakers onboard?
CBS-5 reached out to U.S. congressman Paul Gosar(R- Arizona) who said that he can't support immigration reform until the U.S. border is secure, and there's more trust with the Obama Administration.
"It's hardly a remedy to just allow somebody to violate laws and come into this country in an undocumented way," said Gosar. "There's got to be some type of enforcement through legal status or legal immigration, the proper way not the illegal way."
Todd Landfried is executive director of Arizona Employers for Immigration Reform.
Landfried said that he can't understand why any lawmaker would not want to boost the economy and create jobs.
"It just doesn't make sense from any kind of stand point to continue to kick the can down the street when there's a problem," said Landfried. "We know there's a problem and we know the current strategy isn't working"
Copyright 2014 CBS 5 (KPHO Broadcasting Corporation). All rights reserved.