CBS 5 Advocate
Be smart with new-patient dental coupon deals
Posted:
Updated: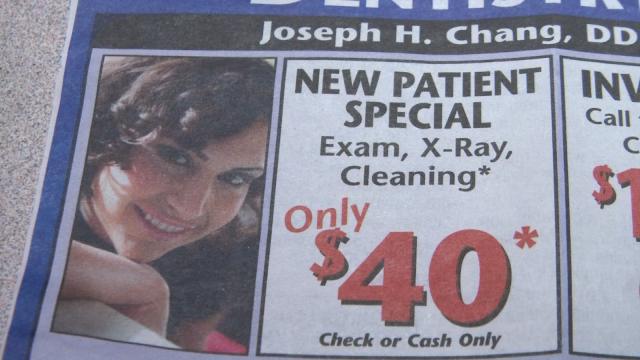 SUN CITY WEST, AZ (CBS5) -
If you're looking for a new dentist, you can find coupons everywhere just for first-time patients but those awesome first-visit deals don't always work out as planned.
New-patient offers get you in the door. Dentists hope you will like your experience and make their practice the permanent place you go for all your other dental needs. So, what should you do if you are told on that first visit that you need expensive additional work?
Raymen Starkka, 75, says he's got all his own teeth. He was looking for a new dentist and came across a coupon deal from Elegant Dentistry in Sun City West. The new-patient special offered X-rays, exams, and cleaning for $40. Starkka says after the X-rays and exam, the dentist told him he had gingivitis and deep pockets in his teeth.
"So you need deep cleaning, a regular cleaning is not going to do it for you," Starkka said.
Elegant's staff worked up the cost of the deep cleaning: $1,020 over two sessions.
"I always thought my teeth were good, but with that kind of money, I said I'm going to have to take some time and think about this," Starkka said.
Starkka did the smart thing: He says he went to two other dentists for a second and a third opinion.
"And it was totally opposite, the dentists told me, you're not even close to a deep cleaning," Starkka said.
Starkka says Elegant didn't perform a cleaning but still charged him the $40. Elegant says they did clean Starkka's teeth. They've since refunded his money but still stand behind their original diagnosis. Starkka says consumers, especially seniors on a fixed income, need to question things.
"When a dentist tells you you've got to spend over a thousand dollars on your teeth, or your teeth are going to start falling out, I think it's just common sense to get a second opinion," Starkka said.
CBS 5 News wants to thank Elegant Dentistry for refunding Starkka's money. Elegant Dentistry tells CBS 5 News they are certain they gave Starkka the right diagnosis. They may be right. If we talked to 10 other dentists, some might agree with Elegant's opinion.
Bottom line: If you go to a dentist for the first time and they diagnose a serious problem that will be costly to fix, it's smart to get a second, and maybe a third opinion, before agreeing to the service.
Copyright 2014 CBS 5 (KPHO Broadcasting Corporation). All rights reserved.