ONLY ON CBS 5
Inmate helps foil plot: 'I couldn't let a little boy die'
Posted:
Updated: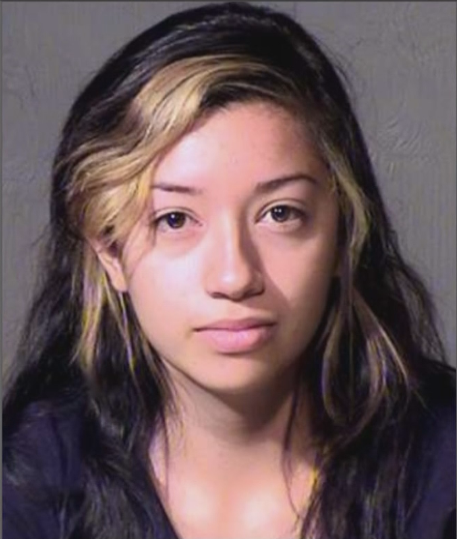 Bernadette Beanes. (Source: Maricopa County Sheriff's Office)
PHOENIX (CBS5) -
Bernadette Beanes has been behind bars for the past eight months for her role in a May 2013 kidnapping and hostage standoff that ended in death.
According to court documents, Beanes fatally shot another suspect, Isreal Celis, before being arrested.
Now the 20-year-old is accused of trying to hire a hit man to kill four witnesses, including a child.
Fellow inmate Windy Panzo blew the lid off of the alleged murder-for-hire plot, and has since been moved from the general population at the Estrella Jail into protective custody because of death threats.
But this mother of three children said she'd do it all again to save a child's life.
"I'm not a snitch," Panzo said. "A snitch is somebody who snitches somebody out to get them in trouble - not to save a life."
According to a Phoenix police report, Panzo likely saved four lives.
In December 2013, Beanes, who was already in jail on 41 charges including first-degree murder, struck up a friendship with Panzo.
"She was joking around, talking about how it would be so much easier if she could get people out of the way," Panzo said.
She quickly realized Beanes wasn't kidding.
Panzo said Beanes was looking to have four witnesses, including a 9-year-old boy, killed.
So Panzo told Beanes she could help her, and then alerted jail officials.
"If I can save one little boy and these people - I would put my life on the line for that little boy and these people. Who wouldn't?" Panzo said.
On Jan. 10, an undercover Phoenix police officer – posing as a hit man who knew Panzo – visited Beanes in jail.
The recorded conversation is chilling.
Officer: "You want me to take care of all four?"
Beanes: "Yes. It's $5,000 a body and it's going to be paid $20,000 total when the job is completely done."
The undercover officer pressed Beanes several times about whether she really wanted to kill a kid.
Officer: "You're sure about that?"
Beanes: "Yeah."
Officer: "Cause he's a kid."
Beanes: "I know."
Officer: "So, you don't give a f*** how I do it? Stab them? Kill them?"
Beanes: "However you want. You paint your masterpiece."
According to the police report, "Beanes wanted the murders carried out before her court date on May 12, which would result in the dismissal of her case – which would lead to her eventual release."
The report also states that on Jan. 6, "Beanes approached a detention officer – believing they knew each other prior to her arrest. She told the officer that she planned to have the witnesses in her case killed and asked the officer to help transport the bodies across the border to Mexico. She asked to use the officer's badge and uniform to facilitate crossing the border with the bodies."
The undercover officer – a detective for nearly 24 years – wrote: "Having been involved in numerous conspiracy to commit murder investigations, I have never encountered a suspect likes Beanes. Beanes, for being so young, was direct and to the point on the murder of four victims. Beanes never wavered and showed no type of sympathy or compassion, even when she was confronted with the fact that one of the victims was a 9-year-old boy."
Beanes now faces four counts of conspiracy to commit first-degree murder, and Panzo said she feels relieved to know an innocent child is out of harm's way.
"That little boy would not be standing here," Panzo said about what could have happened had she not spoken up. "And, one day, I hope to get a hug from him because that would be an honor. It's altered my life greatly from doing it. But, I cannot be ashamed. I cannot be ashamed of what I'm doing."
CBS 5 News spoke with the sergeant with whom Panzo confided.
He confirmed she has not asked for any special treatment, or a reduction in her sentence stemming from drug and weapons charges, for coming forward with the life-saving information.
Copyright 2014 CBS 5 (KPHO Broadcasting Corporation). All rights reserved.