Scottsdale schools report increase of flu cases
Posted:
Updated: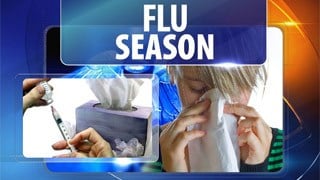 © CBS 5 News
SCOTTSDALE, AZ (CBS5) -
School officials in Scottsdale are notifying parents of the spread of the flu and more students and staff being out sick.
Dear Scottsdale Unified School District Parents and Guardians,
Arizona is seeing an increase in Influenza and other viruses. Additionally, we have identified an increase in reported absences within your student's school.
Influenza: People with Influenza may be able to infect others from 1 day prior to onset of illness to 5-7 days afterwards. No student with an Influenza diagnosis should return to school with symptoms, including headache, chills, excessive coughing, body aches, etc.
Fever: Please keep your child home from school with a fever 100 degrees or greater. Students may return to school with a temperature less than 100 degrees (without the use of Ibuprofen or Tylenol)--only if the child is fever-free for 24 hours.
Vomiting: Students should not return to school for 24 hours after last episode of vomiting. Episodes of vomiting without fever can be due to virus and may still be contagious to classmates.
Please report your son/daughter's absence by calling the school's attendance line and indicate the specific illness or diagnosis. It helps to watch classroom trends. If your son/daughter is sent home from school during the school day with a fever and vomiting, please adhere to the 24 hour fever or vomiting-free recommendation. Teachers should not expect to see that student back in class the next school day. Teach your son/daughter to cover their cough with the inside of their elbow, and wash hands frequently, especially before eating!
The best way to avoid "catching" the flu is to be vaccinated against the flu every year. It is especially important that you consider flu vaccine for your son/daughter and yourself if anyone in your household is considered high risk for flu complications, including:
Pregnant women
Persons with chronic medical conditions, such as asthma, diabetes, obesity or heart disease
Persons who have a weakened immune system, such as from medications or HIV infection
Infants and young children
Adults over 65 years of age
For more information on where to get flu vaccine, contact your healthcare provider. For more information on "stopping the spread" of flu or for materials explaining how to care for someone at home with the flu, please visit https://www.maricopa.gov/publichealth/programs/flu/.
Copyright 2013 CBS 5 (KPHO Broadcasting Corporation). All rights reserved.