5 INVESTIGATES
Medically-retired Mesa cop collecting worker's comp is Ironman athlete
Posted:
Updated: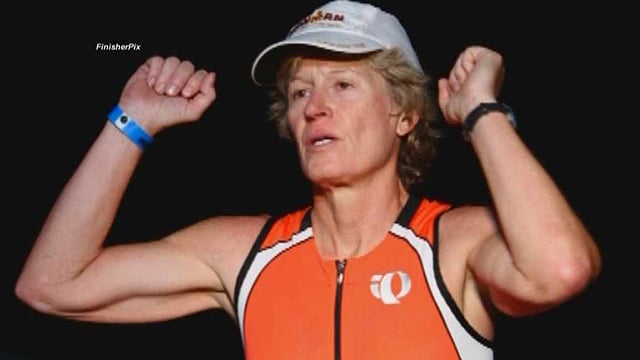 Retired Mesa police officer Audrey Glemba collects worker's compensation checks while she participates in grueling athletic events. (Source: FinisherPix)
PHOENIX (CBS5) -
One of the elite athletes who crossed the finish line in the grueling Ironman Arizona last November is 49-year-old Audrey Glemba.
She's a medically-retired police officer who collects a worker's compensation check every month for an injury she said prevented her from doing her job.
A review of Glemba's records reveal she suffered a back and knee injury in 1995 during a training exercise with the Mesa Police Department.
A year later she was promoted to sergeant and in 2002 she became supervisor of the Dobson Bicycle Squad.
Sgt. Audrey Glemba put in for a medical retirement in 2008.
In the 14 years from her injury to her medical retirement, Glemba ran 29 races, including 10 triathlons, according to the website athlinks.com, a website that compiles results of such races.
CBS 5 Investigates learned that at the time she sought medical retirement, Glemba was under investigation by the internal affairs division.
"This investigation went from 2007 to 2008 when it ultimately ended," said Detective Steve Berry of the Mesa Police Department.
The 2007 internal affairs investigation revealed Glemba and members of the squad she supervised were taking photos of themselves, the homeless and disabled, which they ridiculed with disparaging and offensive remarks.
"They were posting all of that various photographs on walls in different montages, and they'd make captions about who they were or what they were doing," said Berry.
The investigation ended when Glemba was fired in December of 2008.
While she appealed her termination, the local pension board approved her medical retirement, satisfied she was unable to perform the essential functions of her job.
Glemba was briefly reinstated and then retired with full benefits.
Just months earlier, in April of 2008, she participated in yet another Ironman Arizona.
"This doesn't pass the smell test," said Dr. Jeffrey Taffet, who did not treat Glemba. He told CBS 5 Investigates he sees questionable disability cases all the time.
"This is the tip of the iceberg. I see this every single day. I have a file this thick," he said.

In Arizona, nearly 1,400 public safety employees injured in the line of duty are receiving medical retirement benefits.
Taffet says most claims rely almost exclusively on the word of one doctor.
"What we count on as a society is the moral fiber of that physician to do the right thing and unfortunately not all physicians do the right thing," said Taffet.
Two years after her retirement, Glemba also applied for worker's compensation.
Taxpayers in the city of Mesa are paying $508 a month for the rest of Glemba's life, in addition to her medical retirement benefits.
Jim Quiggle of the Coalition Against Insurance Fraud, a watchdog group in Washington, DC, asked, "Should there be more scrutiny, should there be more transparency?"
Quiggle said cases like Glemba's raise a lot of questions about how Arizona approves and tracks disability claims.
"When we're dealing with an issue that could be costing taxpayers hundreds of thousands of dollars over the lifetime of the person's retirement, maybe even millions, you have to ask the question," said Quiggle.
The Arizona Industrial Commission and the Public Safety Retirement System tell us they both have the authority to go back and review disability claims. The Public Safety Retirement System says currently they have no one investigating whether an individual's medical condition changes.
Quiggle suggests more oversight.
"Should there be a review panel to go over these claims? Most departments will have internal, they'll have internal integrity offices that are designed to try to be backstops," Quiggle told CBS 5.
If a panel did review Glemba's case, they'd also learn that just months after her retirement, she won a handiest woman competition with Rosie on the House radio show.
Rosie writes, "Audrey Glemba, a retired Mesa police officer, tore apart the outdated kitchen of her 1958 home last year and put it back together so it looks modern and new."
Five years and an Ironman race later, Glemba told CBS 5 Investigates, she's got nothing to prove.
"This case has been tried to conclusion. If you … I'm not going to try it on television," said Glemba.
Audrey Glemba did what was required in terms of her paperwork. She went through the proper channels and CBS 5 Investigates learned the pension board did know about her athletic feats prior to giving their approval.
Copyright 2014 CBS 5 (KPHO Broadcasting Corporation). All rights reserved.
5 INVESTIGATES

Medically-retired Mesa cop collecting worker's comp is Ironman athlete

More>>

Tuesday, July 29 2014 12:53 PM EDT

2014-07-29 16:53:00 GMT

5i Poll: Vote on top stories of 2012 5i Slideshows Hiding Toxic Secrets 24 Hours on the Border 5 Investigates Archives 5i Links Scam Alert

More >

5i Slideshows Hiding Toxic Secrets 24 Hours on the Border 5 Investigates Archives 5i Links Scam Alert

More >