Colorado company selling new 'multiple impact bullets' in AZ
Posted:
Updated: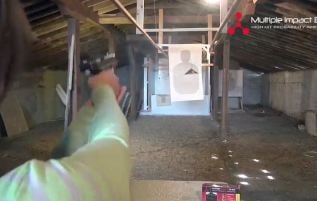 PHOENIX (CBS5) -
A new bullet from a Colorado research and development company packs three controlled fragments into one round. The company said it will compensate for shooter error, but some gun control activists say it will only make situations more dangerous.

The inventors behind this bullet said most people miss their mark when shooting in a life or death situation, like a home invasion, for example. They claim three shots are better than one.
The folks behind Advanced Ballistic Concepts have invented the multiple impact bullet - a bullet that splits into three fragments connected by a fiber about 14 inches apart from one another.
The bullets are now government-approved and flying off the shelves.
"We had set a goal for 150 dealers for across the country by the end of 2014, and it looks like we'll have achieved that by the end of January," said company co-founder Todd Kuchman. He said people can practice in a range all they want, but outside of that controlled environment, panic sets in.
The company says at least one dealer in Arizona is now selling the bullet.
"The reason for prolonged gun battles or multiple shots fired are because the first shots didn't hit their mark and abate their problem," Kuchman said.
"To tell me that to make a bullet more efficient will make us all safer is never an argument I'm going to buy," Geraldine Hills, the founder of Arizonans for Gun Safety, said. "She's not only concerned of how they're marketing these bullets but also who will have access to them."
"Criminals and gangbangers, the mentally ill who are planning mass shootings, all have access to these bullets," Hills said.

"It's not necessarily the tool used to do the evil-doing, it's the person doing it," Kuchman said.
Copyright 2014 CBS 5 (KPHO Broadcasting Corporation). All rights reserved.