Flu numbers climb, hitting young, usually healthy
Posted:
Updated: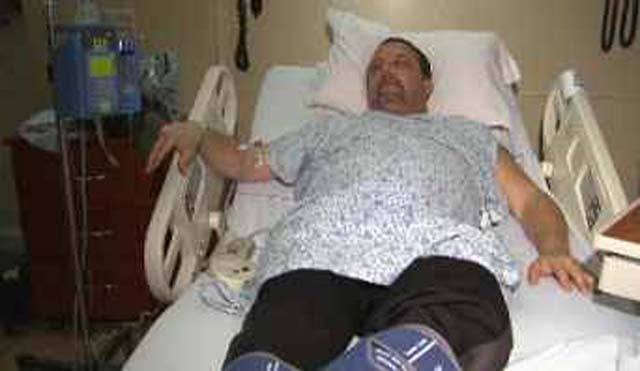 Ted Crews (Source: CBS 5 News)
PHOENIX (CBS5) -
The flu season is worsening this year and not among the usual groups like infants and the elderly. Younger people in the prime of their lives are winding up sicker than expected in Valley hospitals.

Ted Crews is not used to having down time, but after weeks of not feeling well, the 44-year-old criminal defense attorney ended up in a hospital bed, connected to tubes.

Turns out, Crews not only has pneumonia, he has the flu. "I'm very happy that I'm feeling so much better than I was before, but it is scary because I'm hearing about just how prevalent the flu is right now and how many people are affected by it," said Crews.

Dr. Priya Radhakrisnan with St. Joseph's Hospital says the flu is hitting a group that is usually at least risk: men and women between the ages of 19 and 49.
"What's interesting about it this year is that we're seeing a lot more younger people coming in with the flu without all those traditional risk factors, without asthma and diabetes, because that's the general population who comes in and who are worried about," said Radhakrisnan.
Doctors say this age group is likely to spread the flu more quickly.
"I think young people are way more contagious than older folks and the reason is they go to work sick with a little sniffle, and often times it's in that early period when you're most infected and you're not really sick," said Radhakrisnan. "So you can amplify the effect and make a lot more people sicker."
Crews agrees. He's convinced he got the flu at work.
"Everybody knows somebody right now that has the flu and the problem is, nobody is staying home," said Crews. "I'm in the courts and I'm in the jails a lot so my first guess would be I was exposed to someone that was sick there."
"At least two very close attorneys that I work with that have been hospitalized, and as I understand it, they're currently on life support," said attorney Cindy Castillo.
One of her good friends, fellow attorney Xavier Sedillo, has fallen gravely ill with a case of the flu and pneumonia.
"I spoke with an officer today who's pulling for him, prosecutors, the interpreters, judges, everybody is just praying for him."
Castillo said she's not only concerned for Sedillo and his family but also for the implications this could have on the rest of the Valley.
"There are some attorneys who are refusing to do jail visits because we believe possibly those who are in the jail are more susceptible to the viruses," Castillo said.
Doctors say even if you got the flu shot this year, you are still at risk. That being said, the flu shot is still your best defense against getting the flu.
Copyright 2014 CBS 5 (KPHO Broadcasting Corporation). All rights reserved.