CBS 5 Advocate
Free trial offers costly if you fail to cancel in time
Posted:
Updated: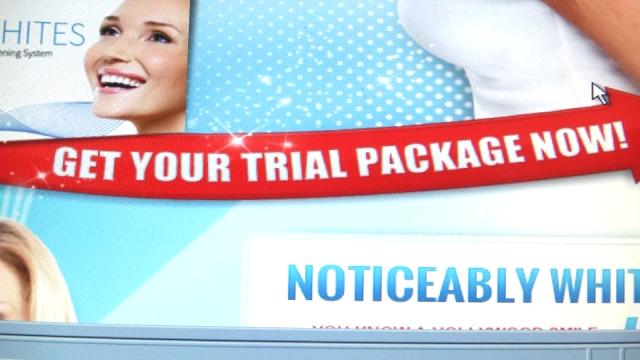 PEORIA, AZ (CBS5) -
A Peoria woman is learning the hard way why free trial offers are a problem. Close attention is required or your free trial can end up costing you a lot of money.
Free trials are marketed under the "negative option" business model. Once you order the free trial, if you don't cancel within the given time frame, you are most likely going to get a bill you never expected to get. The risk is real because terms and conditions are usually not clearly displayed.
"I want them to reverse those charges back and I want my money back," Mary Lou Phillips said.
The company is called Flash Whites. Phillips found a free trial offer for their teeth whitening system online. She felt it was a low risk opportunity at only $4.95 for shipping.
"I just thought, well OK, it's $4.95 so I'll try it and if I like it, I'll order the product," Phillips said.
Phillips says she didn't receive the package for over two weeks. She was about to try it when she just happened to check her bank account and found two charges from Flash Whites for $114 and $121. She says a supervisor at Flash Whites told her she had failed to cancel the free trial and was charged the full price. Phillips says she felt tricked and demanded a refund.
"They said 'no, we can't do that, we can't credit your account back,'" Phillips said.
The length of the trial is not mentioned on Flash White's homepage. You have to click on terms and conditions, way down at the bottom of the homepage, in little print, to learn that customers only have 14 days to return the product or they get billed.
"I didn't even get it for over two weeks," Phillips said.
Phillips says the company offered to refund her $93 only and when she refused they stopped returning her calls. She's learned how costly free trials can be.
"Oh wow, I can get this for $4.95, and no, it's just not true," Phillips said.
With negative option marketing, don't assume you have 30 days, in most cases you won't have that long. If the length of the trial is not explicitly stated on the homepage, always search the terms and conditions to find it before giving your credit card information. If you don't have the product within a couple of days, contact the company to cancel the free trial or ask for an extension.
Right now, Phillips is out more than $200. CBS 5 News contacted Flash Whites several times to have them explain where the company came up with the amounts charged and no one from the company responded.
Copyright 2014 CBS 5 (KPHO Broadcasting Corporation). All rights reserved.