Arizonans react to State of the Union address
Posted:
Updated: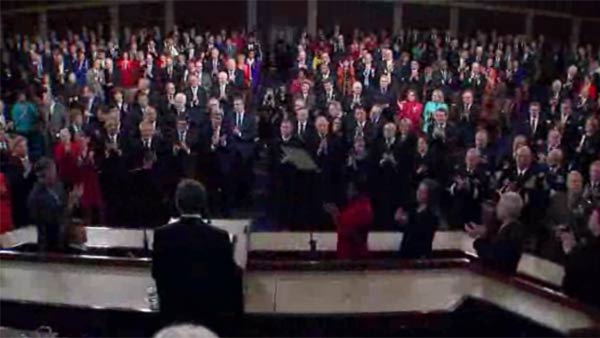 President Barack Obama gives his State of the Union address Tuesday night. (Source: CNN)
PHOENIX (CBS5) -
It didn't take long for Arizonans to react to President Barack Obama's State of the Union address Tuesday night.
Politicians, candidates, and even an 18-year-old student, weighed in on the president's speech.
"While Congress does nothing about the minimum wage, the president is exerting leadership. [. . .] It adds momentum to the issue of income inequality, wage disparity, and raising the minimum wage. I thought it was an important and very powerful statement that he made. [. . .] The president was strong. He spoke directly to the American people. He went over Congress' head to deal with issues of voter registration, the minimum wage, Iran and diplomacy, climate change and using the Antiquities Act to conserve important areas - very strong, saying this office will work with the American people to make it better. On immigration you didn't have that authoritative point [and] that specificity would have been welcome."
- U.S. Rep. Raul Grijalva, D-AZ
"For those who watched the President's speech and the Republican response, the difference could not be more stark.
"The Republican message of optimism and opportunity contrasts with the President's speech of recycled proposals from his previous years in office.
"If the President is ready to accept responsibility for his policies that have led to stagnant economic growth over his 6 years in office, he needs to follow through this time and address the issue with more than just talk of job creation.
"I am hopeful 2014 can be a productive year, but it will require President Obama to do something he has refused to do until now. And that is, reach out and work with Congress in good faith."
- U.S. Rep. David Schweikert, R-AZ
"It is clear the President is ready to act. What we need is the House Republican leadership to release their 'principles' for immigration reform soon. This is good but only a first step. We don't know what the principles will propose but it is positive direction so we can move forward.
"At the same time, we will not allow the President to have it both ways. The laws enforced under his watch have separated hundreds of thousands of children from parents. President Obama's de facto family-separation policy - which Republicans all too gladly support - is winning him a shameful page in history: the President who deported two million immigrants. "
"Our movement won't stop until we win dignity and respect for 11 million aspiring citizens who call this country home."
- Petra Falcon, executive director, Promise Arizona
"I am an Exceptional student and if the bill were to pass I would be achieve my dreams. Like the quote says, 'Caminante no hay camino, se ase camino al andar' - the road is not an easy one and I have to make my own road, but in my road many obstacles come up every day for me and my family.
"If the bill were not to pass, I would be crushed but not stalled. We love this country and want to have the amazing opportunities offered to all citizens."
- Alejandra Bocardo, born in Mexico, 18 years old
"The President is our nation's elected leader and has the privilege and responsibility to set the tone for our nation. Unfortunately, this cannot happen with a President who remains tone-deaf and unwilling to listen to the American people.
"We learned last week that President Obama believes he can lead our nation with only a pen and a phone.
"But Americans don't care about pens and phones; they care about jobs and paychecks. This requires a President who will work with Congress to pass bills that grow the economy, not the size of the government.
"If the President is serious about working with Congress he should start by asking Senate Majority Leader Harry Reid to take up the 40 jobs bills the House has sent to the Senate, finally approve the Keystone Pipeline and remove job-killing regulations through legislation such as the REINS Act.
"I firmly believe that job creation and higher wages are a product of economic growth, not mandates from Washington.
"Americans have a strong spirit of ingenuity and will. We can and should support policies that foster these values, not hinder them."
- U.S. Rep. Matt Salmon, R-AZ
"I just spent nine days at home in Southern Arizona and I can tell you that my main goal and the one I heard repeatedly from constituents is to create a strong climate for new jobs so we can rebuild our middle class. The president addressed some of this concern tonight, but there's much more to do.
"We must immediately reverse the recent cuts in cost-of-living adjustments to military retirees under age 62. We must raise the minimum wage for people who work hard at tough jobs and do not make a livable wage. We must provide mental health and medical services to our returning men and women in uniform.
"And we must fix our broken immigration system.
"We've got a lot of work to do. I'm ready to roll up my sleeves and work with my colleagues on both sides of the aisle, Republicans and Democrats alike, to get the job done. The time for action on all these issues is now."
- U.S. Rep. Ron Barber, D-AZ
"Once again tonight, President Obama stood in front of the American people and completely missed the mark. His speech wasn't about growing our economy or fixing our broken immigration system, it was about politics as usual - and spending more money. Our country is in desperate need of less government regulation, not more executive action, and only when that happens will we be able to secure the border and create a thriving economy."
- Christine Jones, Republican candidate for governor of Arizona
"President Obama's pen won't put Americans back to work. Sound fiscal policy, not more government and gimmicks, will. While I'm pleased the president supports immigration reform and is finally focusing on trade, circumventing Congress won't foster job creation and won't result in economic growth. I hope that in the coming year, the president will work with - not against - Congress in these endeavors."
- U.S. Sen. Jeff Flake, R-AZ
Copyright 2014 CBS 5 (KPHO Broadcasting Corporation). All rights reserved.