Good Samaritan gunshot victim needs help with hospital bills
Posted:
Updated: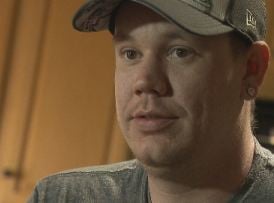 Ryan Doyle - good Samaritan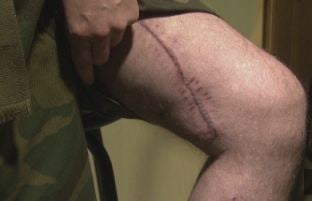 Doyle's gunshot wound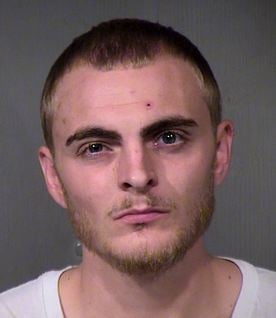 Jeremy Cartwright - shooting suspect
TEMPE, AZ (CBS5) -
A Tempe man ran to the defense of a stranger he said was being assaulted by a man, later identified as her boyfriend.
"A guy should never be physical with a girl, no matter what," said Ryan Doyle. "That's the way I look at it."
For his efforts to help the woman, Doyle got a bullet to the leg and hundreds of thousands of dollars in hospital bills.
"It was Nov. 17 (2013). Yeah, it was a Sunday night," he recalled. "I was out in the backyard, grilling."
That's when Doyle heard a man and a woman yelling at each other near the front of his home, in the area of McClintock and Elliott.
"So I decided to go in the front yard and see what it was – being a nosy neighbor," he said.
The 31-year-old said he saw the man hit the woman, and he knew he had to step in.
"They were across the street," he said. "So I yelled to the kid, 'Hey, leave her alone!'"
Doyle said the man, identified by Tempe police as 20-year-old Jeremy Scott Cartwright, then pulled out a gun and charged him.
"I just thought about cover," he recalled. "Trying to get away. Is this really happening?"
Police said Cartwright fired a single round into Doyle's leg.
"It went through my femoral artery," said Doyle. "It was hollow point. So when it hit my femur – it sent shrapnel out."
The bullet fragments actually left holes in the stucco of his house.
"It could've killed me," he said. "The femoral artery is the biggest artery in your body."
Doyle was rushed to Scottsdale Osborn Hospital, where he underwent a blood transfusion due to the large amount of blood he'd lost from the wound.
Doctors replaced his shattered femur with a metal rod and reconstructed his artery with a vein from his other leg.
"Roughly, it's around $300,000 to $400,000 right now – just for my hospital bills," he said.
Doyle told CBS 5 News, due to a job change, he had a lapse in health insurance coverage when he was shot.
On top of that, Doyle has been unable to work because of the severity of his injury.
He still has months of grueling physical therapy and recovery to endure.
"I wish I could pay them because they saved my life," said Doyle. "But I'm never going to be able to repay that money. It wasn't even my fault. I was trying to do something right."
When asked if he'd respond to a damsel in distress again, given what's happened to him, Doyle said he would.
"I try to pay it forward," he explained. "I kind of really live by that. Help someone out, they'll help someone out in return."
If you'd like to help Doyle with his hospital bills, you can make a donation through his Go Fund Me account.
Cartwright, the man accused of shooting Doyle, is being held at Towers Jail on charges of aggravated assault and misconduct with weapons.
Cartwright's bail is set at $100,000.
Copyright 2014 CBS 5 (KPHO Broadcasting Corporation). All rights reserved.