Red Cross class, phone apps to aid pet owners
Posted:
Updated: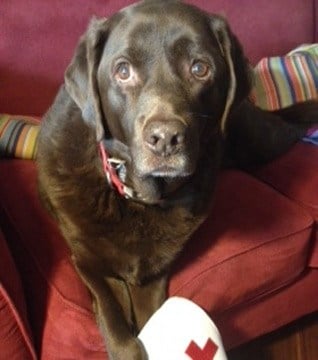 Chip, a 10-year-old Labrador retriever. (Source: American Red Cross)
PHOENIX (CBS5) -
Pet owners can be better equipped to handle emergencies involving their animals with a new class offered by the American Red Cross.
The Red Cross Pet First Aid course will be from 10 a.m. to 2 p.m. Sunday, Feb. 16, at the Grand Canyon Chapter Piper Center, 6135 N. Black Canyon Highway in Phoenix.
Participants will learn how to prepare for emergencies involving a cat or dog and how to protect themselves and animals from further harm by teaching first aid actions and care, according to an American Red Cross news release.
The Red Cross said many people won't evacuate during disasters without their pets. A new smartphone app has resources that help owners include pets in their emergency action plans, according to the release.
"If you need to evacuate, take your pets," said Trudy Thompson Rice of the American Red Cross Grand Canyon Chapter. "If it's not safe for you to stay, it's not safe for your pet."
In the class, pet owners learn how to assemble a pet first aid kit and how to prepare an emergency kit for pets that includes leashes, food, water, toys, medical records and an animal carrier, Rice said.
Registration is available at www.redcross.org/take-a-class. Cost is $70 per person.
The new Red Cross Pet First Aid App puts lifesaving information in the hands of dog and cat owners so they can provide emergency care until veterinary assistance is available.
The 99-cent Pet First Aid app gives iPhone and Android smartphone users instant access to expert information about how to maintain a pet's health and what to do during emergencies.
The app provides step-by-step instructions, videos and images for more than 25 common first aid and emergency situations, including how to treat wounds, control bleeding and care for breathing and cardiac emergencies, Rice said.
The app also covers burns, car accidents, falls and what to do for cold- and heat-related emergencies.
Other features in the app allow pet owners to:
Create a pet profile including tag identification number, photos, list of medications and instructions.
View a list of early warning signs to learn when to call their veterinarian.
Use click-to-call to contact their veterinarian.
Find emergency pet care facilities or alternate veterinarians with the animal hospital locator.
Locate pet-friendly hotels.
Test their knowledge with interactive quizzes and earn badges that they can share on their social networks along with their favorite picture of their pet.
The Pet First Aid App and other Red Cross apps can be found in the Apple App Store and the Google Play Store for Android by searching for American Red Cross or by going to www.redcross.org/prepare/mobile-apps.
Copyright 2014 CBS 5 (KPHO Broadcasting Corporation). All rights reserved.