Attack leaves homeless man critically injured
Posted:
Updated: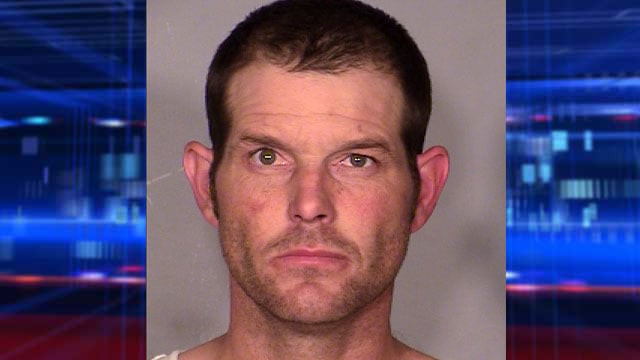 Police said they released this image of the victim, hoping that someone might know him or have information about the attack. (Source: LVMPD)
LAS VEGAS (FOX5) -
Police said they are looking for the person responsible for attacking a homeless man in early January, leaving the man critically injured.
Las Vegas Metro police said they were called to an alley in the 2200 block of North Jones Boulevard at 6:47 a.m. Jan. 7, after someone reported a person was injured there. They said officers arrived to find a man who had been badly beaten.
The man, who police said sometimes uses the first name of John, was described as white, 35 years old, 6'3" tall and 215 pounds, with short, brown hair and hazel eyes. He was wearing a black jacket, a red shirt and blue jeans. He was wearing neither shoes nor socks.
Police said the injured man was taken to University Medical Center for treatment. As of Thursday, the man was unconscious and in extremely critical condition, according to police.
"There is a homeless population in Las Vegas. They are citizens, just like everyone else. The Metro Police Department will do what we need to to find whoever precipitates a crime," Metro Officer Bill Cassell said.
Investigators said they released a picture of the victim, hoping someone might know who the man is or may have information about the case.
"It's difficult out there anyway," said Linda Lera-Randle with Straight from the Streets, a homeless outreach program.
Lera-Randle lives just a few blocks from where the attack occurred. She believes other homeless people will be able to help police.
"We're appreciative that they come and ask, 'Have you seen this person? Do you know this person?' There's no better person that will help than some of the other homeless people," she said.
Lera-Randle wasn't surprised the victim was barefooted.
"He may have gotten a nice donation for the holidays and stuff. There are people in the community that hand out new things, and he might have had on a pair of those kind of shoes, and someone took them from him, and maybe he fought back," she said.
Lera-Randle said she recognizes the victim from his picture but knows little about him.
According to the coroner's office, 71 homeless people died in Clark County in 2012. That was 30 more than in 2011.
Anyone with information about the attack was asked to call Crime Stoppers at 702-385-5555.
Copyright 2014 KVVU (KVVU Broadcasting Corporation). All rights reserved.