Sun Devils hoops host Utah Thursday; honors Eddie Johnson Saturday vs. Colordao
Posted:
Updated: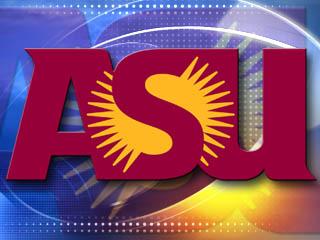 © cbs 5
PHOENIX (CBS5) -
The Sun Devil men's hoops team, averaging 76.7 points in its 13-5 start, plays at home for the first time in 17 days when it hosts Utah on Thursday, Jan. 23 at 7 p.m. and then hosts Colorado on Saturday, Jan. 25, at 5 p.m. Both tilts are on Pac-12 Network and 620 AM/98.7 FM locally. ASU is 25-5 in the past two seasons at home (9-1 this year) including wins over 2013 NCAA Tournament teams Colorado, UCLA, Marquette and California.

DUDE DROPPED 61: Saturday ASU honors the jersey of No. 5 Eddie House, the school's all-time leading scorer, the 1999-2000 Pac-10 Player of the Year and a 2008 NBA World Champion with the Boston Celtics. His best moment? He tied Lew Alcindor's Pac-10 record on Jan. 8, 2000, with 61 points in a 103-98 double-overtime win at California.

HIT RESET: ASU has lost two straight for the first time this year (to Pac-12 heavies UCLA and Arizona), but one peek at the Sun Devil schedule shows tons of big opportunities, as ASU has 13 conference games left with RPI heavy teams Arizona (3), Colorado (17), Oregon (27) and California (33). The Sun Devils are the only Pac-12 school with those four on their schedule twice, and no one else even has UA, UO and CU twice. As of close of business Monday, Jordan Bachynski's NCAA-best 81 blocks was more than 258 Division I teams and 11 more than current silver medal blocks guy Michale Kyser of Louisiana Tech.

THIS IS A GOOD THING: In the first three seasons of his career (89 games), Jordan Bachynski averaged 6.6 points, 4.3 rebounds and 2.03 blocks. This season he is at 12.2 ppg., 9.2 rpg and 4.5 bpg. Jordan has a double-double in nine games, after entering the season with five in his first three seasons. He also needs 17 blocks to set the Pac-12 career mark held by Anthony Cook of Arizona (278 from 1985-89).

PAC-12 CAREER BLOCKED SHOTS
1. 278 – Anthony Cook (Arizona), '85-89
2. 262 – Jordan Bachynski (Arizona State), '10-present

JAHII CLOSING IN ON 1,000 QUICKLY: Jahii Carson enters the 54th game of his career Thursday vs. Utah with 974 career points (18.4 points per game). Only two other Sun Devils have reached 1,000 points quicker than Jahii, and they are familiar names. Ike Diogu reached 1,000 in his 50th game, while James Harden did it in his 52nd. Only one other Sun Devil scored 1,000 points in his first two years, and that was Bobby Lazor. He had 1,077 career points in 62 career games (17.4 points per game) in his two-year Sun Devil career (1997-99) after two seasons at Syracuse. Bobby reached his 1,000th point in his 58th Sun Devil tilt.

NCAA LEADERS: Jordan Bachynski has a chance to lead the NCAA in blocks. Three Sun Devils have led the NCAA in official categories. Jeff Pendergraph shot 66 percent from the field in 2008-09, Ahlon Lewis averaged 9.19 assists in 1997-98 and Dick Daugherty shot 87.2 percent (75-of-86) from the free throw line in 1953-54. Kyle Dodd can lay claim to the unofficial NCAA record with a 4.73 assist-to-turnover ratio back in 2002-03 (104 assists and 22 turnovers), but the NCAA didn't officially start tracking the statistic until 2007-08.

SHAQ IN PAST NINE: Senior transfer Shaquielle McKissic has one year to play and is making the most of it in an efficient manner. In the past nine games, he is averaging 12.0 points and 5.8 rebounds while shooting .515 from the field (35-of-68). In those tilts he is 31-of-43 (.721) from the free throw line and has 18 assists and just seven turnovers. On the year he has 36 assists and just eight turnovers and leads the team with 23 steals.

MANY SHOTS, MANY MAKES: Heading into Pac-12 play this week, 22 league players have taken at least 56 three-pointers. Jermaine Marshall's .460 (46-of-100) shooting is the best by any of them. Marshall also ranks fourth in the league in three-point percentage, but none of the top 10 have taken more than 79 three pointers.

QUICK NUMBERS: ASU is 13-5 start behind the expected numbers of Jahii Carson (18.2 ppg./23-of-51 from three) and Jordan Bachynski (82 blocks/12.2 ppg./9.2 rpg.), but its one-year transfer combo of wings Jermaine Marshall (15.6 ppg./46-of-100 from three) and Shaquielle McKissic (12.0 ppg in past nine as well as 37 assists and just eight turnovers on the year) has been efficient.

MARSHALL, MARSHALL, MARSHALL: Later in notes you will read about Jermaine Marshall's career stats and some great scoring numbers, but don't sleep on this note as competition begins to heat up. In two high-intensity wins where every bucket was needed (UNLV and Marquette), he was 15-of-28 (.535) from the floor, 6-of-13 (.462) from the three-point stripe and posted 21 at UNLV and 20 vs. Marquette. Want more? In the second-half of those nail biters he was 10-of-14 (.714) from floor. He has 1,146 career points and 154 career three-pointers in 107 career games.

HE'S A MAN, HE DROPPED 40: Jahii Carson became the fourth Sun Devil to drop 40 (seven times) when he went 16-of-25 from the floor and had 26 second-half points in the Nov. 19 86-80 win at UNLV. Eddie House (four times), Paul Williams (a second-round NBA pick of the Phoenix Suns in 1983) and The Beard did the same in a Sun Devil uniform.

SUN DEVIL TOP SCORING GAMES
61-Eddie House at California (2 OT), Jan. 8, 2000
46-Eddie House vs. San Diego State, Dec. 18, 1999
45-Paul Williams at USC, Mar. 10, 1983
42-Eddie House vs. Penn State, Dec. 29, 1999
40-Jahii Carson at UNLV, Nov. 19, 2013
40-James Harden vs. UTEP, Nov. 30, 2008
40-Eddie House vs. UCLA, Feb. 17, 2000
Copyright 2014 CBS 5 (KPHO Broadcasting Corporation). All rights reserved.