Students of Wushu prepare for Mulan performance
Posted:
Updated: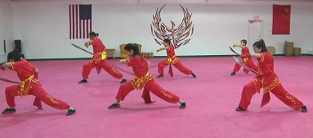 PHOENIX (CBS5) -
The Chinese new year is just more than a week away and the Phoenix Wushu Academy is kicking off the celebration by a performance of Mulan this Saturday.
Performers as young as 4 years old will showcase their skill in Chinese martial arts, dance and acting.
More than 100 kids and adults are part of this performance, and they have been practicing for months.
After school, students will come to the academy three to four days a week and rehearse up to six hours.
The story of Mulan tells of a young girl who takes her father's place in battle. Throughout the performance there is plenty of traditional Chinese dance and a form of martial arts called Wushu.
Bonnie Fu, the director of the Phoenix Wushu Academy said Wushu is basically a more modern form of Kung Fu.
The students of the academy were happy to spend the numerous hours it took to prepare for Mulan.
"Our Wushu school is basically a huge family. We love each other. We're like sisters, so I really enjoyed practicing together with these amazing girls because they're so talented and they challenge me all the time to do better," said Jane Ho, a student of Phoenix Wushu Academy.
Fu said the performance is a good way to bring awareness to the Chinese culture, that's been around for 1,000 years.
Plus, she said it teaches a good lesson.
"Always don't forget to love the person that is important to you and always remember be loyal to your country," said Fu.
The performance is Saturday, Jan. 25 at the Orpheum Theater in Downtown Phoenix.
Copyright 2014 CBS 5 (KPHO Broadcasting Corporation). All rights reserved.