Dining in the dark will benefit charity serving visually impaired
Posted:
Updated: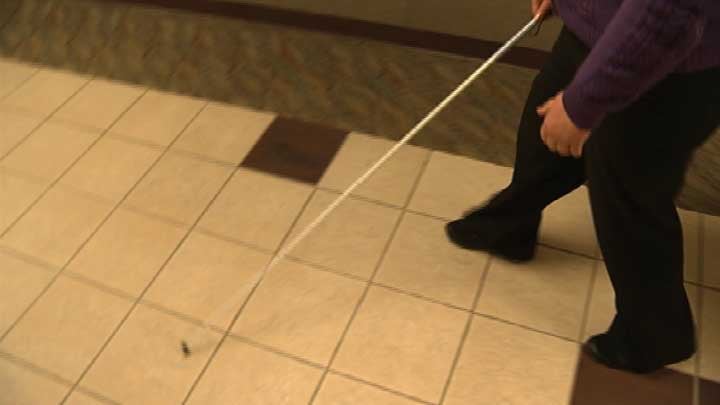 KANSAS CITY, MO (KCTV) -
A Kansas City area nonprofit serving the visually impaired is hosting a gourmet meal to help provide empathy while raising funds for a worthy cause.
Alphapointe will hold a unique sensory experience next month called Dining in the Dark. Those in attendance at the Westin Crown Center will eat their meal in complete darkness and will be assisted by visually impaired servers.
The goal is to raise funds while showing with the right training and support that people with vision loss can do anything that they want to do.
Alphapointe helps provide jobs for the visually impaired. The American Federation for the Blind estimates that seven out of 10 of those visually impaired don't have a job.

Marta Vinton is among those benefiting from Alphapointe's services.

"My sight, it's tunnel-vision now. You just see what's in front of you. You cannot see from the side," she said.
Vinton was born with a condition that made her partially deaf, and also caused her sight to ebb away over the years.
"I don't see anything below. That's why I'm using the cane, so I don't trip," Vinton explained.

When she was laid off at her accounting job last year, Vinton decided she needed help standing out among other applicants, so employers would see what she "can" do rather than what she "can't."
She turned to the Low Vision Center at Alphapointe, which gives the visually impaired the tools and training needed to re-enter the workforce and to live independently. Navigating through life with a walking stick is also taught.

"Everyone is going to have different goals for rehab when they come in here. Marta is ready to get back out there. She's ready to work. She's ready to take care of herself. We may have some other clients who come in here who are through our senior program that just want to be safe in their own home," said Jennifer Kraenzle, manager of special events and volunteer programs at Alphapointe.
"I'm very glad that I did come here," Vinton said.
"Dining in the Dark" pays for itself through ticket sales along with grants and state funding.
The event is Feb. 27, and seating is limited.
For more information, click here.

Copyright 2014 KCTV (Meredith Corp.) All rights reserved.