UPDATE
Valley turns out to honor Martin Luther King, Jr.
Posted:
Updated: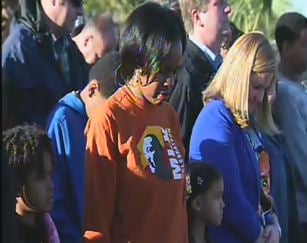 Marchers gather in prayer before the start (Source: CBS 5 News)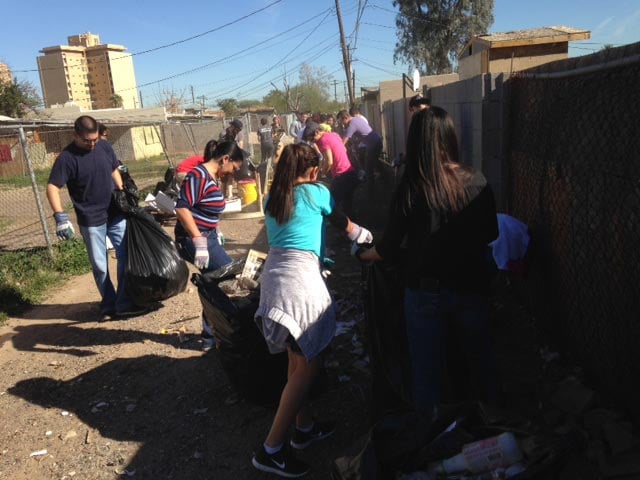 Volunteers help clean up an area of Mesa on Monday. (Source: CBS 5 News)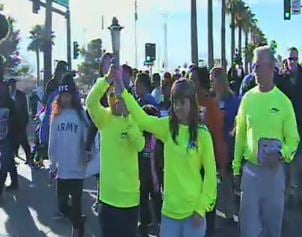 Runners from the morning torch run lead the way (Source: CBS 5 News)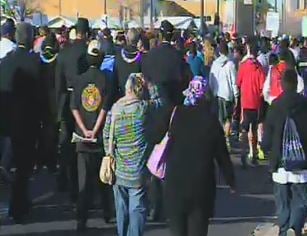 Marchers walk down Washington street towards the heart of downtown (Source: CBS 5 News)
PHOENIX (CBS5) -
Thousands of people turned out Monday to celebrate the life and teachings of Dr. Martin Luther King, Jr., with parades, marches, a Mass, and a renaming of a street in the East Valley.
Arizona Gov. Jan Brewer issued the following statement:
"Today, we take time to honor the life and spirit of one of America's most influential and important civil leaders. Dr. Martin Luther King, Jr. will forever be remembered and revered for his pivotal role in our nation's civil rights movement.
"Dr. King's message of love, justice, freedom and fairness bettered the course of American history and continues to inspire us today.
"As we reflect on the courage and commitment of Dr. King, may we always strive to embody those values and advance his righteous dream. And, as this is also a national day of service, I ask Arizonans to honor Dr. King by committing ourselves to serving our communities in our work, our relationships and our volunteerism."
Hundreds from across the Valley gathered for a march in downtown Phoenix on Monday morning, 50 years after the famous march on Washington, D.C.
Even though Monday was a federal holiday, George and Priscilla Krucko did not get the day off, so every year they use one of their vacation days to observe the holiday and take place in the march.
"It's important for all of us to just remember the contribution that Martin Luther King made to this world," said Priscilla Krucko.
Marchers walked hand in hand with friends and family from Pilgrim Rest Baptist Church on a 3-mile march to Margaret T. Hance Park.
Led by runners from the Martin Luther King Torch Run, parents and children held signs in remembrance.
Pat Orzabal marched with her son and daughter and tries to educate them about King's legacy.
"It starts at home with the family," she said.
Others, like Jose Madril, a seventh-grader at C. J. Jorgensen School in Phoenix, used the parade to be proactive about their own cause. Jose passed out certificates to fellow walkers to make a pledge to stop bullying.
"Just because of your color, your race or where your from, doesn't mean they're different. We're all the same," Jose said.
Mesa celebrated with a parade and other celebrations, but it was a special street renaming that held significance.
Mesa officials and residents unveiled Marking Luther King Jr. Way during a Monday morning ceremony at the intersection of Center Street and East Third Place. The new name replaces Third Place.
"As we recognize Dr. King's legacy with a street named in his honor, we also recognize how far we have come as Americans, as Arizonans and as humans," District 4 Councilmember Chris Glover said.
Martin Luther King Jr. Way is in downtown Mesa and District 4.
"This street not only represents a movement that helped change the character of this country but also inspire the world," Glover said. "I am truly honored to have Martin Luther King Jr. Way in downtown Mesa and District 4."
Elsewhere, volunteers from the Valley of the Sun United Way gathered Monday morning to fill food bags to be distributed to the Valley's hungry.
A 3 p.m. Mass was at St. Mary's Basilica in Phoenix with the Rev. Thomas J. Olmsted, Dr. Marvin Threatt and a Las Vegas choir leading the celebration.
Copyright 2014 CBS 5 (KPHO Broadcasting Corporation). All rights reserved.