CBS 5 Advocate
Prepaid AZ Medical Massage customers worried about refunds
Posted:
Updated: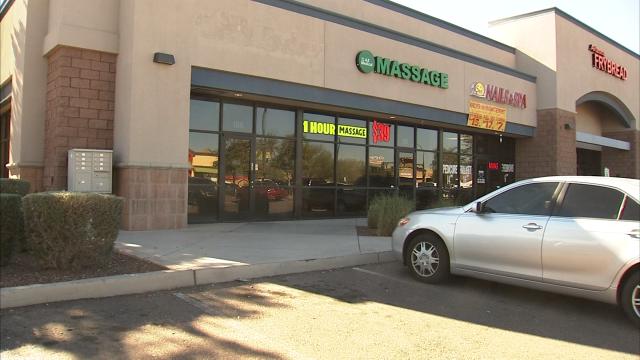 AVONDALE, AZ (CBS5) -
Prepaid customers of Arizona Medical Massage in Avondale are concerned about refunds after the business was raided for allegedly selling marijuana without a license.
"I feel like we've been cheated," Jonie Carpenter said.
Carpenter doesn't know what to do since Arizona Medical Massage was busted last week for allegedly selling marijuana without a license. Carpenter bought four prepaid massages from the owner, Susan Dianetti, prior to the police raid.
"Now that we've prepaid the $240 for the extra massages, how are we going to get those services with them being closed," Carpenter said.
CBS 5 News went to the Avondale location today, it's appears completely empty. Carpenter says her husband has severe back problems and needs those massages but she can't get any information from Dianetti.
"I have called multiple times and I have sent five emails to her and have gotten no response for any of them," Carpenter said.
A worker at a neighboring business told CBS 5 News that she has seen several other Arizona Medical Massage customers stopping by the vacant location with similar concerns. Carpenter says Arizona Medical Massage needs to provide the services or refunds.
"I feel as a customer in this society that we are being ripped off, and I'd like to know how's she going to resolve the issue," Carpenter said.
CBS 5 News was able to get Dianetti on the phone today, she says her assets have been frozen but she's working on a plan to help prepaid customers. Carpenter is not so sure, she's concerned she will never see her money or her massages.
"To prepay and have the faith in a business and then to have nothing in return, not an answer, not a response, not nothing," Carpenter said.
This case is different for sure, but it illustrates a good point: Businesses shut down for many different reasons.
So whether it's a gym, a car wash, or a massage center, to stay out of this type of predicament, it's generally better not to prepay for services but pay as you go instead.
CBS 5 News will stay on this case and let you know how Dianetti handles her commitments to her prepaid massage customers.
Copyright 2014 CBS 5 (KPHO Broadcasting Corporation). All rights reserved.