Lawmaker hopes to change AZ conflict of interest law
Posted:
Updated: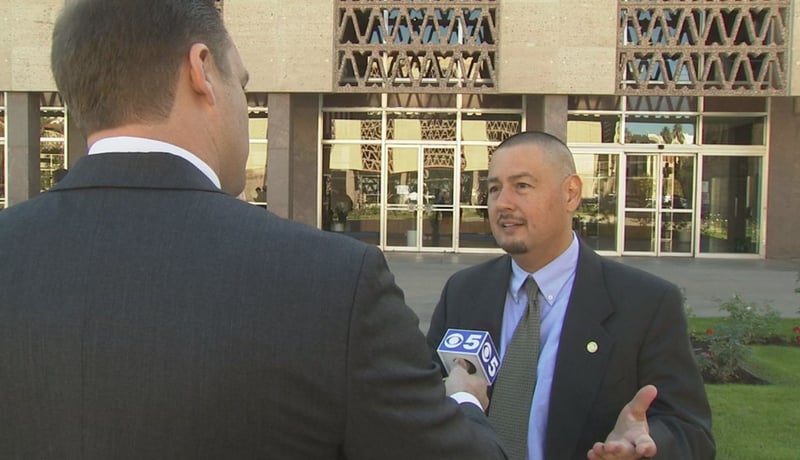 PHOENIX (CBS5) -
Arizona state Sen. Steve Gallardo is planning to introduce a bill that would make it illegal for state lawmakers to profit from laws they sponsor and help to pass.
"Any time you have an elected official who is earning money from or cashing in on the bills which they are introducing, I think it's wrong," said Gallardo, a Democrat from Phoenix.
This comes one week after CBS 5 Investigates exposed another senator who sponsored bills that have impacted an organization which he serves as executive director. That lawmaker, Republican Steve Yarbrough of Chandler, introduced another bill on the first day of the 2014 legislative session that impacts another organization he is associated with.
Yarbrough is the executive director of Arizona Christian School Tuition Organization. In that role, he earns a salary of $96,000. He is also the owner of the building that houses ACSTO and receives $50,000 per year in rent. ACSTO bought Yarbrough a car, and in 2011, paid $427,000 to a processing company owned in part by Yarbrough.
The bill introduced during this legislative session would impact School Choice Arizona Inc. by allowing owners and shareholders of S Corporations to donate money to private school tuition funds and receive state tax credits in return. SCA receives those donations and doles them out to schools. Yarbrough is listed as an unpaid director. SCA is housed inside an office space Yarbrough owns.
Yarbrough has denied he is doing anything wrong. On Monday, he told CBS 5 Investigates that his work in the Legislature and school tuition organizations has survived the scrutiny of Senate attorneys.
"People who oppose school choice in all of its forms, they always make an issue out of that," said Yarbrough.
Meanwhile, the bill he introduced, SB 1048, appears to be on a fast track to approval. It was assigned to the Finance Committee, which Yarbrough chairs.
Gallardo's bill that would prohibit lawmakers from profiting from their laws may face a tougher road to passage. Bills of its type often must pass the Ethics Committee, which is also chaired by Yarbrough.
Copyright 2014 CBS 5 (KPHO Broadcasting Corporation). All rights reserved.