Arizonans respond to Gov. Brewer's State of the State
Posted:
Updated: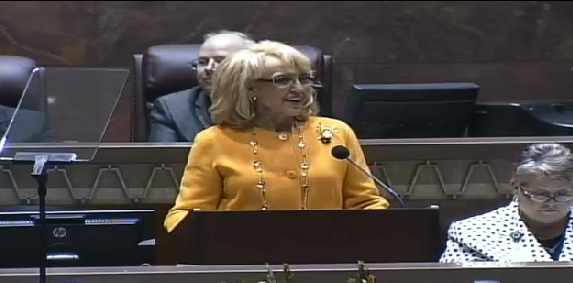 Gov. Brewer giving her State of the State Address on Jan. 13, 2014.
PHOENIX (CBS5) -
Gov. Jan Brewer gave her State of the State address on Monday afternoon, announcing plans to overhaul the troubled child welfare agency, boosting the economy and changing the way schools are funded.
Members of the Maricopa County Board of Supervisors were among those praising Brewer's work.
"Governor Brewer's agenda for 2014 will move us toward making our state a more prosperous and safer place to live and work - for ourselves and for Arizona's children. We must continue to pursue the policies that will make Arizona competitive - chief among those are a business-friendly tax system and an innovative, robust education system that will attract businesses and jobs to our state. Our taxpayers deserve nothing less," Maricopa County Supervisor Steve Chucri said.
"The governor didn't forget the West Valley, properly recognizing the contributions our military bases make to both national security and the local and state economies. I hope the Legislature will follow her recommendation and put money into the Military Installation Fund. This would help protect our bases from encroachment and not put all the burden on the neighboring property owners," Maricopa County Supervisor in District 4, Clint Hickman said.
Progress Now Arizona claims progress in Arizona is being impeded by "Brewer's inability to lead."
"Yes, the governor did support Obamacare through Medicaid expansion, which was the right thing to do. But there are so many other issues in Arizona that need attention. Tea Party extremists continue to control the legislative agenda, and Governor Brewer has been too busy trying to keep her administration from coming apart at the seams to do anything about it," said Robbie Sherwood, executive director of ProgressNow Arizona.
Stay with cbs5az.com for additional responses to Brewer's speech.
Watch Brewer's State of the State address above and voice your opinion in the comments section below.
Copyright 2014 CBS 5 (KPHO Broadcasting Corporation). All rights reserved.